The Human Body as a Medium of Art
First Online: December 8, 2001
Page Last Updated: January 10, 2018
Everybody knows Leonardo Da Vinci painted human bodies. But not everybody knows that Indians, for centuries, have used the human body as a medium of art and religious expression. Many of these forms such as the Nama (daily body paitings), Vibhuti (sacred ash) and the Mangalya (the red dot worn by Indian women) have origins in the Hindu rituals. Other forms of body art found in India such as Henna (temporary tattoos), tattoos, body piercing, are very prevalent and are complied here for a pictorial exhibit.
Table of Contents
See Also: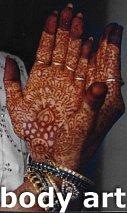 Human Body as Art Media


Index
Pictures