Prof A.N. Moorthy Rao

Akkihebalu Narasimha Moorthy Rao or A. N. Moorthy Rao is a great name in Modern Kannada Literature. A pioneer in popularizing the essay format, he is the finest Kannada essayist known for lucid style interspersed with wit, humor and picturesque descriptions. He is equally proficient in the English language and was a Professor of English in Mysore University. He studied and worked with great academicians in early decade of last century in that university.

© K. L. Kamat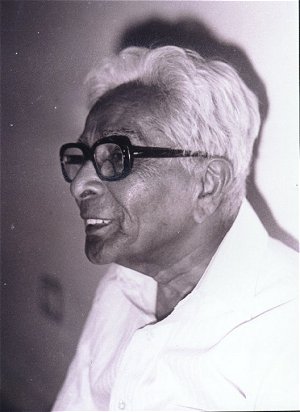 Prof. A. N . Moorthy Rao (b.1900)
He was also the first Director of Mysore Radio Station (Akashvani) founded by Prof. M.V. Goapalswamy and later taken over by the Maharaja's Government. He gave a lot of boost to radio plays, literary programs and music, he himself being a connoisseur of Carnatic music. He knew almost all great masters, and brought them to the radio station in the days when broadcasting was live (no recording technology was available). When I served in the same position twenty-five years later (see Memoirs of Mysore), I was very much aware of the great legacy of that post.
Kamat (my husband) and myself had studied some of his essays included in our high school texts and Kamat was very much influenced by Prof Rao's writings. Kamat could quote by heart, passages from Prof. Rao's essays on Flowers (Hoovugalu) and Journey by Bullock Cart (Gadiya prayana).
When my first book of humorous essays "Sansardalli Swarasya" was out, I presented a copy to Prof. Rao whom I called once "Prabandha Parameshthi" (Brahma the essay creator) in a T.V. interview. I was so thrilled and surprised to receive a letter of high appreciation in return. A guru appreciating a novice! It was a great booster for me and paved way for publication of two more of my essay collections.
Prof. Rao is a great traveler as well. Right up to the age of 98 he undertook several trips to England and America. This tata (Prof. Rao is 103) knows no generation gaps. He can mix and interact and entertain any number of people of different age groups.
Besides several books of essays, he is the author of a unique book on God ("Devaru"). A confirmed agnostic, it is quite interesting to read his atheistic interpretations of ancient Indian religious texts. His criticism of superstition laced with good humor makes for very interesting reading. His autobiography "Sanje Gannina Hinnoata" (Glimpses through Twilight Sight) gives rare glimpses of socio-economic and academic scene of the full 20th century India, which he has actively lead and observed. He presided over the National Kannada literary conference in 1984 and also served as a Director of Kannada and culture. He has several awards to his credit. He is still active at 103 and regales the audience with anecdotes whenever at public meetings.

See Also: