Remembering ''Chaduranga''
Subramanya Raje Urs: 'Chaduranga' (1916-98)
"Chaduranaga" was a multi-faceted writer. He wrote stories, poems, plays, novels, skits and directed plays. His literary output did not match his versatility. But all his writings are highly acclaimed because of his humanitarian approach to social problems and the subtle ways dealing with them. He lends artistic touch to even complex issues of exploitation, cruelty and injustice, while depicting them in rural or urban surroundings.
© K. L. Kamat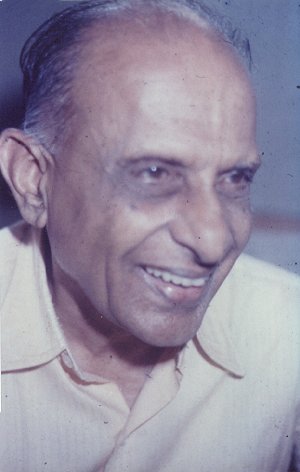 "Chaduranga", Kannada Writer (1916-98)
Related to Wodeyars of Mysore, Subramanya Raje Urs was born in Urs (royal) family in Kallahalli Village of Hunsur taluk in the year 1916. His father Muddu Raj Urs had lineage of Gangas of Talkad and mother Marudevammanni belonged to the family of Mangarasa who wrote the famous Supasastra, (book on culinary Science). Mangarasa ruled from Kallahalli. It seems Chaduranga's anscestors were famous as players of chess (Chaturanga or Chaduranga) at the royal court. Subramanya Raje was also fond of the game and adopted his pen name after it.
Chaduranga had schooling in Kallahalli and Mysore. He was classmate of Jayachamaraja Wodeyar who later became the king of Mysore state. After graduation he went to Pune to study law, but could not complete the course due to domestic difficulties and returned to Mysore. He was under the strong spell of Gandhiji and National Movement and started wearing Khadi clothes. He was also influenced by his writer-Gurus like B.M. Shri, Masti Venkatesh Iyengar and G.P. Rajaratnam, and started writing. Quickly he became famous as a writer of short stories and radio-plays.
Though of royal lineage and having very good contact with higher ups in the administration, he never used them for self-promotion. He gave up cosy life and good placement for the woman who loved him. He married her and settled in Kallahalli, leading the farmer's life on a meagre income. He imbibed true rural spirit with the life of the down trodden which is reflected in his novels. His four novels that are poular:
Sarvamangala
Uyyale
Vaishakha
Hejjala
The first two were turned into movies which won National awards.
Chaduranga was also recipient of State and Central Sahitya Academy Awards. Mysore University conferred honorary doctorate on him and the state government, Rajyotsava Award. He presided over the sixty third all India Kannada Literary Conference in 1994. He produced documentary films on Kuvempu and the famed dancer Venkatalakshamma.
Chaduranga always encouraged young writers and others in their careers. He would spare no pains to help those in distress. Perhaps this trait left him with less time for literary activities. He was an Ajatashatru (Man with no enemies). Simple and straightforward, he attracted people from different spheres of life. A great story teller, he had innumerable anecdotes - happy and sad - to narrate. He was surrounded by admirers who were writers, actors, politicians, villagers and students. He always kept a low profile which endeared him to common man.
© K. L. Kamat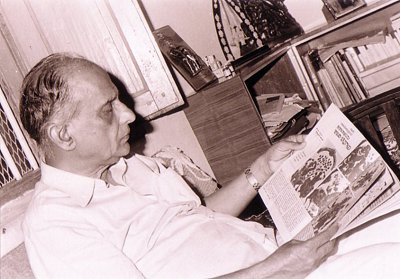 Chaduranga appreciating Kamat's Kavi Art
I got know Chaduranga during my stint in Mysore. He became a good friend of the family, wrote a foreword for one of my books, and helped my husband study and photograph Mysore Traditional Paintings.
I miss him.