Tattoo: An Ancient Art
Tattoo: An Ancient Art
Tattooing is gaining popularity these days. Though the word tattoo is of Polynesian origin, the art was common to many ancient civilizations. Some Egyptian mummies (2000 BC) carry tattoo marks. In India, a stone sculpture of  200 C.E. of Sunga period has tattoo marks on cheeks and chins. Decorating the body with mehandi or mixture of fragrant musk, saffron and sandal paste was very popular in ancient India, but it was temporary. Tattooing was permanent which one carried to graveyard with them.
In India, the tattoos have religious and superstitious significance as well. Women preferred tattooing for the welfare of husband, children etc. Some got to fulfill a vow or against dreaded diseases. But by and large it was to ensure non-widowhood. Cheeks, brows, neck, arms, shoulders, and wrists are the favored parts. Men get tattoos on arms, shoulders and wrists to ensure virility. Among tribals it is a practice to get their entire body tattooed which enabled their bodies to camouflage with forest surroundings: The color of tattoo in India is green or dark green.
© K. L. Kamat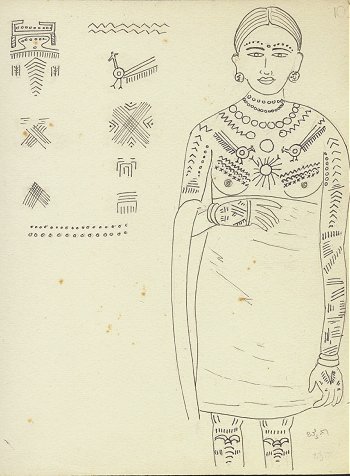 Pricking the earmarked place with needles and then filling the pricks in holes with indelible ink (mainly prepared from herbs and carbon) forms the main process. Many castes in India do the job for petty payment. Songs are sung, jokes are told while the pricking agony is born by the person for an hour or more depending on the intricacy of design. The designs could be of snakes, birds (peacock, Garuda, etc.), chariot, sun, moon, trees, flowers, and grains. Tattooing is believed to protect persons against attack of wild beasts and snake bite--hence the use of respective designs.
After continuous pricking and inking, the tattooed part is washed, and turmeric considered antiseptic is applied to wounds. Nowadays, more sophisticated equipment is used for tattooing.
See Also:
• The Body as Canvass