Today's Bappa's birthday. He would have been 72. The New English School in Honavar, where Bappa studied (and I did as well) is conducting a "Kamat Day". They also conducted an exhibition last month during the Ganapati Festival (see Report in Udayavani Newspaper).

The library that Amma built in Honavar might finally start this year (we've had all kinds of problems from mischief-mongers).

Link Suggestions
Aperture Photo Blog: Pictures of Old Mysore Dasara -- Relive the old glory in these paintings.
Deccan Heard: Practising Gandhism in my own way by Vinut Hiremath. "You should become the change you want to see in the world"

Dasara Greetings
My greetings to all readers of this blog, and the advertisers who support Kamat's Potpourri. Here's a Dasara Greeting I'd made when I was six..
© Vikas Kamat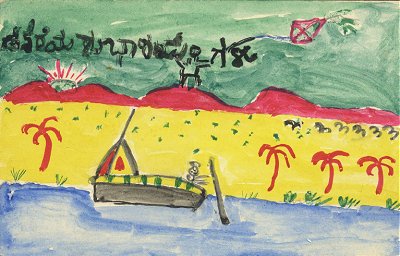 A New Tool for Advertisers
I have opened a new set of tools for our advertisers. It contains all the inventory of pages, their ranks, and CPR (Cumulative PageRank) of content folders. Lots of tools to plan a campaign.
Please register as an Advertiser in Kamat Network to gain access. (Registration is free).

Vijayakarnataka Remembers Bappa
Via a Reader's Tip: Today's Vijayakarnataka newspaper has a column about Bappa on Page 7. Nice
If you can read Kannada, the Vijayakarnataka has an excellent essay by S.L. Bhyrappa on the Tippu-Kannada controversy. It is full of facts, and includes an attack on Girish Karnad. It is on the Sept 24th issue.
(Comments Disabled for Now. Sorry!)
First Written: Thursday, September 28, 2006
Last Modified: 9/28/2006 11:22:14 PM