Welcome! VijayKarnataka Readers!
I have been featured with Dr. C.S. Yogananda in today's "Sunday Supplement" of this popular newspaper. link to e-paper.
Omprakash for VijayKarnataka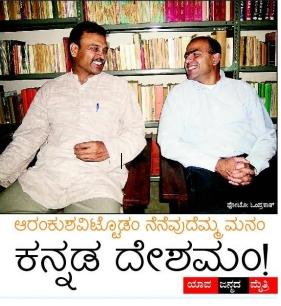 We are featured under the column Yava Janmada Maitri (paraphrased as "we must have been friends in a prior birth"), and my friendship with Yoga has been really that -- we only met recently via web, and we share all these dreams about Mathematics, Sciences (for example, we are working to build a research database of Conference Proceedings), and especially Electronic Contents in Indian Languages (like dictionaries, encyclopedias, websites). Even if we don't succeed, I already have been a beneficiary of an intellectual friendship.
My sincere thanks to V.N. Venkatalakshmi who moderated the conversation and initiated the dialogue, and the editors of VijayKarnataka for the opportunity.

Article in Kasturi

On a separate note, one of Bappa's unpublished letter has been published in this issue of "Kasturi" monthly (February 2007 issue).

(Comments Disabled for Now. Sorry!)
First Written: Saturday, January 20, 2007
Last Modified: 1/21/2007 7:44:23 AM