Comedy of Errors on Feb 24th
Kamat Memorial Trust is proud to sponsor Shakespeare's "Comedy of Errors" play in Honavar on February 24.
Location: Raghuchandra Hall
Time: 6:00 PM
There is no entry fee. It is a wonderful occasion to enjoy professional rendering of a famous play in the backdrop of small town charm. Please attend if you can.
This occasion will mark five years of the foundation Amma setup to remember my dad, and one year of opening of the Kamat Memorial Library.

Endorsement for Obama
I do not know what it means, but I hereby endorse Barack Obama for President of United States.
Hillary Clinton can run as Obama's Vice-presidential candidate. I believe that would be good for the world.

Newfound Interest in Ethnic Africans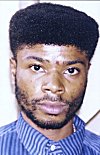 February is observed as Black History Month, and I am bombarded with emails seeking details of various African communities in India.
See Also: Siddis -- Indians of African Origin
(Comments Disabled for Now. Sorry!)
First Written: Saturday, February 16, 2008
Last Modified: 2/23/2008 10:51:08 PM