Coming Attractions at Kamat's Potpourri
The following is a list of stories and sections we are working on.
We regret that we are unable to provide any specific dates/information on these than provided below.
Kamat Goes to a Cockfight!
Recently Kamat had the rare opportunity to witness an ancient custom in India; and much to the discomfort of the participants (Cockfights are illegal in India), he photographed them.

Appeasing God -- Photographic exhibition

Ever since Kamat saw Stephen Huyler's Meeting God exhibit, he wanted to his own series on the topic.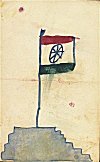 Patriotic India

During August of 2001, the Kamat couple had an opportunity to witness the Independence Day celebrations in a rural village in India. Heart-warming pictures on the spirits of the Real India.



Unknown Artists of India

Kamat goes to great lengths to identify some of the great artists of India, who have largely remained anonymous.

See Also:
Kamat BLOG -- daily updated news, views, and amusements at Kamat's Potpourri
(Comments Disabled for Now. Sorry!)
First Written: Saturday, October 13, 2001
Last Modified: 10/21/2001
Tags: whatsnew