Greetings from Seattle, Washington. I am taking a vacation after so many years and having a great time. I hadn't realized that Seattle is such a touristy city.


Skyline of Seattle from Alki Beach

Sign of the Times
Congratulations to Julie and Jagadish Chatram, who were married here on Saturday. As is common among inter-racial and inter-faith couples, the ceremony (and the parties) reflected both cultures and traditions.

Review of Sunday in the Park with George
Sunday in the Park with George is a brilliant musical based on Georges Seurat's famous painting.
The way the characters are interwoven and the technology used in the play is superb and will be relished by lovers of both the paint media and the theater media.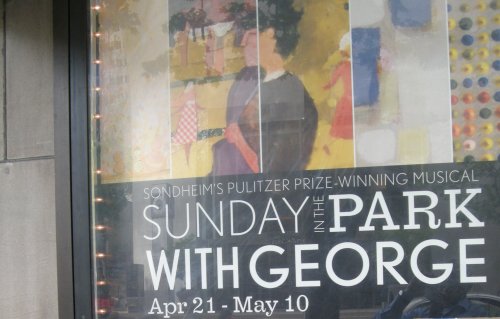 Sunday in the Park at Fifth Avenue Theater
The plot just after the intermission got a little arbitrary for my taste, but I guess that reflects present day art business. But at the end it all came together beautifully.

(Comments Disabled for Now. Sorry!)
First Written: Tuesday, May 5, 2009
Last Modified: 5/5/2009 4:13:20 PM