It is rather unbelievable, but in the twelve years that I have been editing Kamat's Potpourri, we never had to delete a file from the server!

I think this because the use of our home-made CMS allowed for flexible, and easy updates and my strong belief to keep our published contents durable, book-markable, and available all the time.

The other day a researcher pointed out that had mis-classified a mural from Sri Lanka as belonging to Ajanta. So I had to delete it from the Ajanta folder.

That's when I realized I had no delete on my CMS!

Of course, being a programmer, I quickly wrote it, but I thought that it is rather remarkable that I had not even required the delete functionality till now.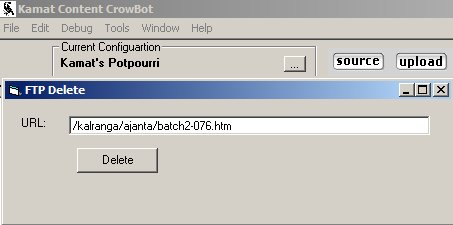 I was also pleasantly surprised how easily my my old VB6 compiled on Vista Business machine. It just worked.
See Also:
• Vikas's Goof Log

(Comments Disabled for Now. Sorry!)
First Written: Sunday, September 13, 2009
Last Modified: 9/13/2009 5:42:07 PM