Here are some snapshots of Friends of Kamat meetup in Bengaluru and Dharwad.

If you can read Kannada, Malli has a better report and better pictures.

Somehow our family guest-book became a point of discussion as soon as I asked the friends to sign-in, and continued till the end.

DG Mallikarjuna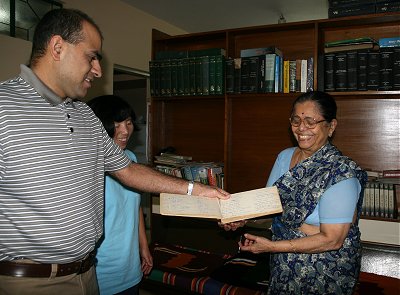 I was very happy to see Kannada writer Nemichandra making time to come see us, and we shared some of Bappa's anthropological illustrations with the friends.
While browsing through the guest-book, others recognized many famous names. Malli, who is an avid autograph collector took many pictures. Going through the old entries also brought some fond memories of lost friends.
DG Mallikarjuna



Hand-writings of some of the dearest friends of Kamat. I have written about D.K. Murthy. Nakul Redkar was my father's childhood friend.
I also met lots of other friends (not just website friends). It was wonderful. I think friends are gifts from God.
Prior to my visit, there was a discussion on Dharwad Pedhas on our mailing list, and our friends made good on the offer to feed us the specialty delicacy.
I met my father's roommate V.K. Deshpande (see his article: History of Kamat.com) and Suresh Kulakarni who took the famous photo of my father.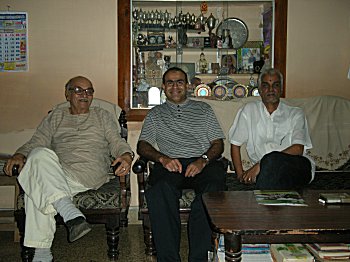 Kamat.com Friends -- V.K. Deshpande, Vikas and Suresh Kulkarni
(Comments Disabled for Now. Sorry!)
First Written: Tuesday, December 1, 2009
Last Modified: 12/1/2009 9:15:01 AM