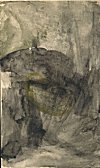 Clouds of War in Middle-East
I have a deep fear that a war is about to break out in the Middle-East. It can be triggered by Saddam Hussein attacking Israel, Pakistan breaking away from coalition, or USA launching fresh air strikes on Iraq -- all of which are definite possibilities.
Unlike most other wars, the Jew-Palestinian conflict has no clearly defined, just and unjust causes. There is one completely non-violent solution (Jews and Palestinians living as one civil nation), but it is a solution unacceptable to either sides. I personally feel that the time is ripe for a Palestinian state, although it will not solve any of the problems.
I have always wondered which one is more important: living with peace or living with honor. People who choose honor become martyrs, terrorists, and soldiers. People who choose peace become immigrants, converts, refugees, and diplomats. Gandhi's non-violence is the only way to achieve peace with honor, because it provides a way to fight without weapons.
Most people demanding a Palestinian state have not thought about its future economy, the nation's core values, and especially its interactions with Israel. In the non-violent approach, you become friends with the enemy -- like India became with England, so peace is ensured at the end of the conflict.

(Comments Disabled for Now. Sorry!)
First Written: Monday, December 3, 2001
Last Modified: 1/29/2003