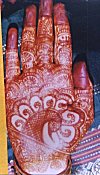 Body Canvass
Everybody knows Leonardo Da Vinci painted human bodies. But not everybody knows that Indians, for centuries, have used the human body as a medium of art and religious expression.

Clouds of a Fourth Indo-Pak War
BBC: Pakistan fears a major war -- yeah, like they didn't see it coming.
Many leaders are now saying that the conflict be resolved through talks and dialogue. That is same as suggesting dialogue with Osama bin Laden. I say no talk, no mediation, no compromise. Let's settle this matter one way or the other.
More updates:
Pakistani citizens in India panic (the last time a war broke out, it took seven years for them to return), New war tax of 5% imposed in Pakistan, Loose Pakistani terrorists in India pose new danger in important locations, India to go to war with or without allied help, Meanwhile more violence breaks out in Kashmir.

NY Times: The Last Bus to Pakistan (free registration required)



(Comments Disabled for Now. Sorry!)
First Written: Friday, December 28, 2001
Last Modified: 1/29/2003