Just in Time for July 4

I am happy to announce the availability of Kamat's American Travelogue (Nanoo Amarecage Hogidde in Kannada language) on the occasion of America's birthday.
This is the 12th edition of the book, and it is available from stores that sells Indian language books.
Krishnanand Kamat, Nanoo Amarecage Hogidde, Manohara Grintha Mala, XII Edition, 2002

Magnum Opus?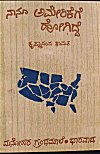 Many people consider Nanoo Amarecage Hogidde, Kamat's first, as his best literary work. It is an excellent travelogue of USA of 1960s that compares and contrasts the practices of India and America. Many readers have written to Kamat that they learnt as much about India as they learnt about USA from the book.

More Kamat to Come Soon
I've also heard from Prism that Kamat's book on Snakes would be out by August of 2002.
Thanks to the laborious editing undertaken by my mother, a compilation of some of the letters father wrote to me in the 1990s is being made into a book "Letters to son".
This book was in fact, demanded by Kamat's admirers gathered at his condolence meeting, who had read his "Letters to soul-mate" -- a collection of his letters written to my mother. It is gratifying to live up to the expectations of the fans.
The book really reads well. I look forward to its release. Meanwhile, the hard-core fans can write to me (

) and avail a photocopy of the manuscript.
So by bringing out three books in four months, my father is very productive for a dead man!

(Comments Disabled for Now. Sorry!)
First Written: Wednesday, July 3, 2002
Last Modified: 1/29/2003