Obituary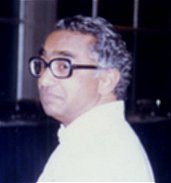 Prof. A.G. Hariharan
(1939-2002)
It is with a sense of loss that I announce the passing away of Prof. Hariharan, who served as the Senior Systems Manager at my alma mater SJCE.
As a senior faculty and a visionary, Hariharan was responsible for introducing Unix to many students of my generation. Under his leadership the state of Karnataka introduced computerized entrance tests for the highly sought after college seats in engineering and medicine. He also served as a consultant to the Governments of India and Bangladesh in the field of computer education.
Prof. Hahiharan served me as a reference when I applied for admission to Universities in USA, and I owe my gratitude to him for recommending me for higher studies, and for recognizing my academic potential.

Kamat's New Book is Out!
Sarpa Sankula (in Kannada), my father's unpublished manuscript has been brought out by Prism.(via telephone from my mother)
It should be available in bookstores soon. It is about the Snakes of India. I haven't read it yet...
Links:
• Snakes of India: Frequently Asked Questions
• Fall of Indian Civilization -- my review of father's last book.

(Comments Disabled for Now. Sorry!)
First Written: Friday, November 22, 2002
Last Modified: 11/21/2002