Mukta Venkatesh is No More
(via Instant Message from a relative, link to news)

Mukta Venkatesh, the talented painter of flowers (see: The Flowers of Mysore) passed away yesterday. She was 101.
I've known Mrs. Venkatesh since I was a college student in Mysore, and we were very fond of each other. I have been greatly inspired from her personality, her mastery of English poetry, her affection, and desire to continue her hobbies.
Goodbye Muktamma, and thanks for all those hand-painted floral greetings you sent us.

BAFFLE-Bash Tonight!
The Birmingham Area Fantasy Football League meets for a bash tonight at "On Tap Sports Cafe" to watch Chiefs visit the Raiders. Say Hi if you see me.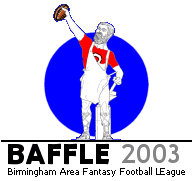 BTW, my franchise, The KamatSutra has done very well so far. For the Monday Night game, I am behind by 10 points, but still have Priest Holmes.... Should be a great contest..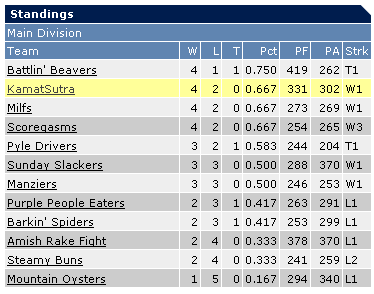 (Comments Disabled for Now. Sorry!)
First Written: Monday, October 20, 2003
Last Modified: 10/20/2003