The Feedback System
As an engineering student when I learnt about the feedback system (you know, where you feed the output of a system to itself to control it), I thought that it was a fascinating idea. Who'd have thought of that?!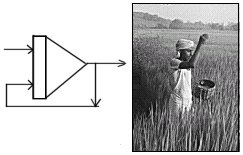 Then last year as we were cataloging pictures, my father told me of an amazing tradition he had witnessed in the Malenadu region of Karnataka. As the harvest day approached, the farmers walked to the farms, prayed to the fields, and fed grains to the fields with devotion.
"Do you mean to say they fed the fields?!" I exclaimed.
"Yes." my father said --" and as farmers they know that the grains thus offered are eaten by birds or ants. But that is not important to the devotee; he has made the offering to mother earth; who benefits from it, is of no concern to him."
"So it is a superstitious belief"
"You can say what you want Vikas. But didn't' they teach you about feedback control systems in engineering?"
Suddenly I felt ashamed; it re-occurred to me --Feedback! What a beautiful concept !!
feedback (n) -- The return of a portion of the output of a process or system to the input, especially when used to maintain performance or to control a system or process.
(Comments Disabled for Now. Sorry!)
First Written: Wednesday, August 29, 2001
Last Modified: 9/8/2001