Sorry for lack of updates. I promise to add a RSS feed soon so you do not have to keep checking for new entries.

I am traveling in India, and have a lot of stuff to write.

A Very Indian Story
This is a true story that took place in our multi-storied apartment community in Bangalore.
There lives an elderly couple who take daily walks between 6:00 and 6:30 in the evening. They apparently also have a safe in the house whose keys are kept under their pillow.
The other day, they returned early from the walk to discover that their locked flat, was unlocked and there was someone inside with the lights on! Most of the Indian doors have a latch from outside, and this gentleman, showing great presence of mind, bolted the flat from outside, before asking who was in. Well, the guest was an intruder/thief, who suddenly realized he had no way out, and begged to let out.
The gentleman tried to contact security (we have 24 hour guard) and neighbors. Meanwhile the intruder, a young man of 24, panicked and tried to jump out of the balcony some eight floors down, and fell, breaking many many bones. He died in hospital, but only after a lot of people who gathered in amusement did not offer him any help (as it would be so called criminal matter and to get involved is to face harassment by police), and the police who arrived late, stole from him, what he had just stolen, a sum of Rs. 2000 (US$50).
The elderly lady said the cry of the young 24 year old asking to open the doors of her house (from inside out) reverberating in her ears now is too disturbing. But we consoled her that it was the best thing the couple could have done, as he might have posed a danger to themselves.
There are many points to ponder. The first of course is value of human life, did this boy have to die for stealing $50? How did this man knew of the couple's routine? and how did he get in? (when the neighbor tried to contact the watchman, he was nowhere to be found, so the theory is that the intruder and the security guy had an alliance). Whatever happened to compassion? Since when seeing a man bleed to death is entertainment?
As Amma has written, "there is no sin a hungry man will not commit". Unless we cure poverty, this type of violent incidents will continue to happen.

Late Obituary
I mourn the death of Baje Krishna Kamat of Sringeri, a very long time admirer of our family and our works. He is a distant relative, but he was a close friend and was full of affection for my father and myself.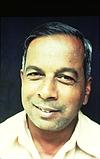 (Comments Disabled for Now. Sorry!)
First Written: Friday, February 4, 2005
Last Modified: 11/21/2008 10:57:09 PM