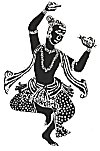 I pretty much retired my spider Narad in 2001 after the emergence of Google, because Google could do everything that I was using Narad for.
Now that I am jobless, I thought of doing some work on Narad. Today I implemeted "Feed Auto-discovery" so I can populate the BlogXMLFeed field we had reserved during the design of Blog Portal.
Once that is done, you no longer have to ping Blog Portal with the Pickup Line, the spider will pick it up.
How cool is that?
Of course, the manual ping will continue to exist for people who blog using their own tools and for who want ping broadcasting.
Field of Information Retreival
Information retrieval (IR), sometimes called Selective Dissemination of Information (SDI) is an application of computer science where a software program makes sense of an ocean of content to determine what is of interest and what is noise. Google News is an excellent example of IR/SDI technology. Kim and I are tuning our Narad crawler to recognize scholarly content that is useful to us in compilation of the Kamat Research Abstracts.

(Comments Disabled for Now. Sorry!)
First Written: Tuesday, May 3, 2005
Last Modified: 5/4/2005 10:45:22 PM