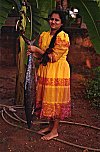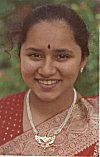 Congratulations to Pavitra Kamat of Honavar (presently at Mysore) and Dinesh Rao of Bangalore (presently in Melbourne, Australia) on their wedding engagement.
Pavitra, my cousin, has been a great photographic model to my father's hobbies, and you will see her pictures spread throughout this site, most famously as "Half Girl, Half Woman".
A grand engagement party was held in the historic Rama Mandir (a great source of beautiful Kavi Art murals, BTW) of Honavar, where 1200 guests attended!
Looks like 2006 is going to be full of weddings in my family (Indian family includes the extended members). This is the second engagement already. Two more are expected.
My joke is that Kama is very favorbale to the Kamats this year


Silly Bug in Crowbot Software
If you see that Half Girl, Half Woman page, one of the recommended pages is about Guljarilal Nanda. I have no idea why. My software does silly stuff like that sometimes...
(Comments Disabled for Now. Sorry!)
First Written: Friday, April 28, 2006
Last Modified: 4/28/2006 8:25:55 AM