Reprint of Vangadarshana

Just heard that Bappa's travelogue of Bengal titled "Vanga Darshan" will be reprinted by Karnataka Literary Akademy. The book gives a graphic encounter of life in West Bengal in late 1960s. It had been out-of-print for a long time, and exposes the Naxalite and Communist movements of Bengal during the years the author lived in West Bengal.

Sociliast Movements in India

Talking about Communists and Socialists, I am very happy to compile an interesting exhibit of Socialist Propaganda in India through wonderful period posters.
Original inspiration came from 1996 exhibit at Internet Public Library on Anarchist Images

Baba Would've Been 100
This week, my maternal grandfather (who passed away in 2002, when he was 97) would have turned 100, and Amma has an article: Remembering Baba on his Birth Centennial

TiNamShri and DLN Centennials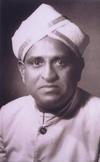 This year is also the 100th birth year of great Kannada scholars T.N. Srikantiah, (writer of "Bharatiya Kavya Meemamse"), and D.L. Narasimhachar.
Enjoy these rare portraits...I get mail all the time from family members of all these great men and women that they've never seen these pictures.
All thanks to the Camera Monkey...

(Comments Disabled for Now. Sorry!)
First Written: Friday, June 2, 2006
Last Modified: 6/3/2006 11:37:48 AM