From time to time, I get updates from some of the people featured in our Photo Archive.

(via Private Message) Mr. Shankar Kantu of Nilekani in Sirsi passed away last week. He had been ailing for sometime.
May his soul rest in peace.
Like so many times, we happened to have a beautiful, story-filled photograph of his, although a candid one, of enjoying the breakfast served by his wife Mrs. Krishne Kantu.
© K. L. Kamat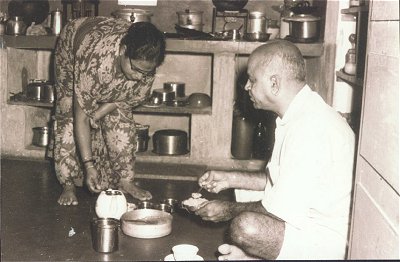 Many years ago I visited the Kantu household. They were living as one huge joint-family then, with some thirty five members living together. My observations made then are still vivid, and some of them will be distilled in a novel I am writing (yes! see below).

By popular demand (they have been privately requested for years), I have decided to write a novel. I am very excited about it.
Although not known as a fiction writer, my dad wrote a novel in 1971, titled "Bhagna Swapna". It was his only novel, and has been out of print for a long time. The other day we got a fan-letter --"Please don't give this story to the movie makers" pleaded the letter, "They will spoil the beauty of the story"!!
(Comments Disabled for Now. Sorry!)
First Written: Monday, July 24, 2006
Last Modified: 7/24/2006 1:54:20 AM