The Artist's Daughter
The artist I wrote about the other day (see: House is full of kids, yard is full of shit) came from a family of distinguished artisans and temple-builders (his last name was "Templemaker"). He himself was a skilled sculptor and painter. Unfortunately he� lived in a time when there was no patronage for his skills. The ivory was banned, and the sandle-wood (two of the base materials for his sculpting) was rarely available. He made a living by preparing ephemeral wedding decorations, and personalizing umbrellas (writing names on them) and automobiles.
© Vikas Kamat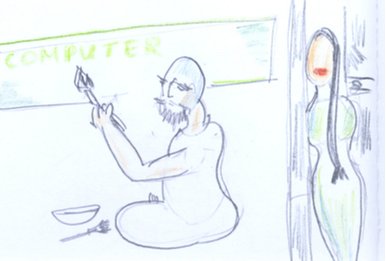 He had many children. One of the daughters was in my class. She did not get through IV grade and became a classmate of my younger cousin, then she failed again, and became a classmate of yet another cousin during the VII grade, and again a classmate of yet another cousin who is five years younger than me, during her IX grade, and hence was the subject of many hilarious jokes.
Then I left Honavar, studied engineering, joined a computer company, and once again had the opportunity to visit Honavar under a Rural Development Project. I wanted a sign made for our office, and decided to call upon our artist. I was told that due to debts and financial poverty, he'd had to sell his shop and now worked from home. So I went to his house.
I was happy to see the artist and greeted him -- he was a role model for me when I was growing, when I used to watch him make fantastic carvings from dry wood -- although he didn't recognize me in my expensive clothes. He had become old beyond his age. He then pointed me to the adjacent� living room� and said "they are in there".
Two of his daughters were sitting inside the room and one of them, my former classmate, approached me. She recognized me, and asked me to come in. I quite didn't understand, and told her I wanted a sign painted, she then referred me back to her father and said a sweet tone to visit her when I was free.
My family members then told me what had occurred of the artist's family. The girls had taken to prostitution. It made me sick to my stomach that a girl who had studied with me had had to go to the flesh business, and whose father I had so looked up to, knew about it and possibly was now acting as a pimp.
As I have grown older (this incident occurred ten years ago), I have nothing but sympathy for the artist and his family. Systematic destruction of forest resources denied him the only means of livelihood. There was no role for an artist in a society where the temples were being built only illegally, and plastic and manufactured art was gaining popularity. What could he have done? What else could his daughter have done?
You know, poverty is the worst form of violence.

See Also:
(Comments Disabled for Now. Sorry!)
First Written: Thursday, November 27, 2003
Last Modified: 11/28/2003
Tags: honavar