Friendship of Brahmin Boy and the Pimp
Yesterday I wrote about how Indira Gandhi kept the members of the opposition in jail without trial during the dark days of Emergency in India.
One such leader, a family friend, was kept in the police-station/jail of our town. The food that was provided by the jail-contractor was horrible and my family talked the officials into us providing meals to this political detainee.
For eight months in 1976-77 I hand-carried lunch and dinner for this gentleman. Here's a picture of me of that period, so you can imagine.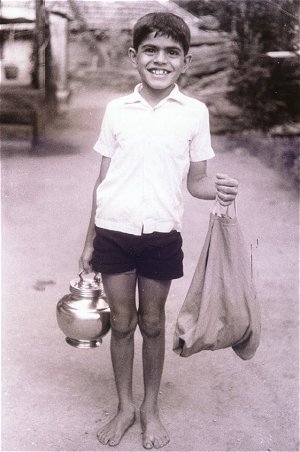 I do not think visiting jail everyday at such a young age has had any negative impact on me. On the contrary, I developed a broad sense of the legal system and its abuse. Even today, I am more guided by what is right and wrong, rather than what is legal.
"Men make legal systems. But there are higher powers
that rule the destiny of men and nations" -- Bal Gangadhar Tilak
Anyway, back to the story.
During my daily visits, I became friends with the food-contractor Mr. Bhatta* who seemed like a religious man with his fresh namas and a soft personality. Everyday, he would ask -"What's for dinner today?" and reply -"No change in my menu!" We would greet each other even when we met outside of the police-station.
Sometime after this, one day (after Indira Gandhi lost power, and after her own arrest), some boys and girls wanted to play games in a spacious yard with lots of mango trees, that we had never played before. I knocked the door of the house to ask, and Bhatta answered. He gladly allowed us to play. We played to our hearts content, till it became dark.
There was a furor in the town the next day. Apparently Bhatta was the town pimp, and everybody was shocked that brahmin children -- some of them teenaged girls, would play in the proximity of ill repute.
Hey, we didn't know!!
* Name altered to protect identity
(Comments Disabled for Now. Sorry!)
First Written: Wednesday, January 30, 2002
Last Modified: 11/27/2003
Tags: honavar, desitale