The Cable People
by K. L. Kamat
Page Last Updated: January 03, 2018
In the rush to enable the Silicon City of India for the Internet, the Government of Karnataka ordered large-scale wiring of the city of Bangalore in the year 2000. Massive digging ensued, without adequate urban planning, and without any repair to the streets they dug up (see : Who dug up the Garden City?), endangering the lives of pedestrians (viz. most of India) as well as of motorists.
"..a fifteen year- old girl laborer from their team was missing and they had been searching for her for two days. I thought they suspected me..."
The workers who laid these cables were completely illiterate, and utterly poor. They probably have never used a telephone in their lifetime. They worked barefoot in the hot sun and used ancient tools. I found it distressing that to cater for the fancy of the few, the rest of society was put to so much inconvenience and turmoil. I tried to photograph the workers, but they were not co-operative. But after I distributed pictures of a couple of them, they were pleased and begged me to take their pictures! I thought that the story of how low-tech workers are building a high-tech India would make a good web feature at Kamat's Potpourri.
© K. L. Kamat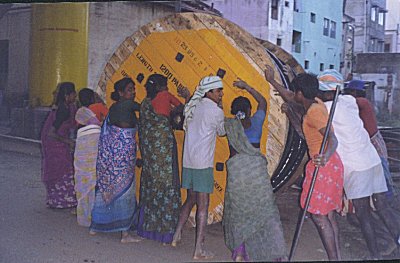 Bare Feted Laborers Rolling Fiber Optic Cable
The Wiring of India, Bangalore, 2001
Soon after I photographed them, the contractor took the workers (daily wage laborers, who were mostly immigrants from disaster-struck areas) to another neighborhood to lay the cable. Then about a week later, as I walked to work, a bunch of the cable layers spotted me and approached me. None of them spoke Kannada, Hindi or English. They spoke only Telugu, and that too in a very rural accent. They proceeded to describe a grave situation, which got confusing because each worker kept interrupting another. Apparently a fifteen year-old girl laborer from their team was missing and they had been searching for her for two days. I thought they suspected me (there was a time in India when a man with a camera could lure young rural women into becoming actresses and exploit them) but I had had nothing to do with her disappearance and I denied any responsibility. There was quite a pandemonium, but just then, fortunately for me, an older worker appeared and stated that a girl wearing a long skirt and a blouse, belonging to his team, had eloped with her lover, who was also her co-worker. To locate her, he needed a photograph of the girl to give to the police (India does not have an identification system; see Never Been Photographed). The poor villagers didn't have my name or address, which is why they had searched for me on every street of Malleswaram for two days!
Since she was the only one in their team who wore a long skirt, it was not difficult to locate her picture. The next day, I printed two color prints of the girl and gave them to their foreman. The whole team thanked me endlessly; they were as happy as they would be if the girl actually returned!
I have not heard from them since. The Government did not even bring them back to fix the damage they did to the streets in the course of their work
Incident Occurred in Malleswaram in March 2001
First Online: June 10, 2001
.