My Friend Vithal Mahale
by Vikas Kamat
First Online: July 28, 2001
Page Last Updated: January 03, 2018
When I was 12 years old growing up in the town of Honavar, Vithal Mahale was a very good friend. We would play Cricket, Hene-gende and other games together. One day a neighbor caught us throwing stones (as if to fill it up!) in his drinking water well and all the boys lied saying that we were just trying to retrieve our ball that had fallen into the well. But not Vitla, as we called him. He said that we didn't realize that it was a drinking water well, but we were having fun by throwing rocks into it. He promised never to do it again and calmed down the irate man.
That evening, Vitla was called upon by the temple priest to perform a ritual at the temple. He (also a boy of 12 years of age) was honored by the congregation at the Venkataramana temple. We didn't understand why Vitla was singled out for this special honor but we thought that as he was the only one who did not lie, he must be closer to God than rest of us.
Once I asked Vitla why the temple people ask him to perform all these rituals. He didn't know either, but said that it is a tradition he inherited from his father.
A few years later, after I had moved away from Honavar, I heard that Vitla had died suddenly. The mysterious ill-luck had struck the Mahales again, after the untimely death of Vitla's father and a dramatic suicide of the latter's brother.
Then in 1988, Prashant Mahale, Vitla's brother revealed to my father that he has some copper plates in his house with some inscriptions. He was ashamed that the plates were being used to dig ash at the bathroom boiler, but cleaned them and brought to our house for photography.
© K. L. Kamat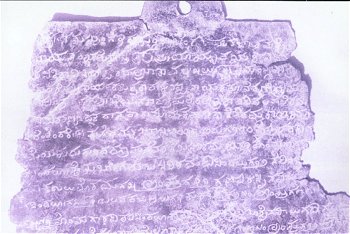 A Copper Plate of the Mahale Family
My father photographed the three plates, but they were hardly legible. The language seemed old-Kannada like. So we contacted epigraphists at the Karnataka State Gazetteer where Suryanath Kamath was the director and the inscriptions revealed a stunning history of the region in general and of the Mahales in particular. Turns out that one of the ancestors (way-ancestor - see the family tree) built the Venkataramana temple and the tradition of having a Mahale perform the lead rituals on special occasions dated back to centuries!
The plates also revealed the dates of construction of many of the temples in the region including the Venkatapur temple. Read the entire story: The Mahales of Honavar -- A junked copper inscription reveals the genealogy of a once prominent family and explains the root of a local tradition.
I also thought that a story of a destitute man establishing an illegal toll-gate in the chaotic boundary of kingdoms was just ingenious!
See Also: