Allauddin Khan
by Mohan Nadkarni
First Published in: The Illustrated Weekly of India, Bombay in Issue dated November 9, 1980
Ustad Allauddin Khan was 110 when he passed into history in 1972. He was something more than a musical genius a visionary whose like is born but once in centuries. Few luminaries have shone so resplendently on the musical firmament for over half a century as the venerable maestro. Fewer still are those who could achieve, with such tremendous success, the unique synthesis of tradition and experiment in the realm of Hindustani instrumental music.
Of historic significance was the new trail he blazed in the field the veena-based fusion of gayaki, layakari and tantrakari, and its adoption to the playing of instruments like the sitar, the sarod and several others. And he himself showed how this approach made it possible for our ragas and raginis to emerge in their true form, dignity, grandeur, color and sparkle.
Apart from being a performer par excellence, with an astounding command over 30-odd instruments from the string, wind, bow and percussion groups, he was a teacher, composer and conductor of highest caliber. He was a master of dhrupad, dhamar and other styles of traditional vocal music. He innovated a rich and varied repertory of ragas and instruments. He secured tutelage from over a score of teachers, including those of Western music. His catholic understanding of Western instrumental tradition culminated in the creation of what is known as the Maihar Band, possibly the first-ever attempt at orchestration of Indian music. All these aspects of the maestro's contributions deservedly brought him universal acclaim as "Acharya''.
The vitality of the Acharya's universal approach to the concept of music is resoundingly brought home by the glorious line-up of some of our greatest luminaries, all of whom benefited from rigorous but rewarding training under him. His disciples include his son, Ali Akbar Khan; nephew, Bahadur Khan; sarod virtuosi Shyam Ganguly, and Sharan Rani; and sitar stalwarts Ravi Shankar and Nikhil Banerjee; His daughter, Annapurna Devi, is known for her unequalled command over the surbahar, while Pannalal Ghosh became immortal as the pioneer in the introduction of gayaki to woodwind instruments under his mentor's inspiration.
V.N. O'key/Kamat's Potpourri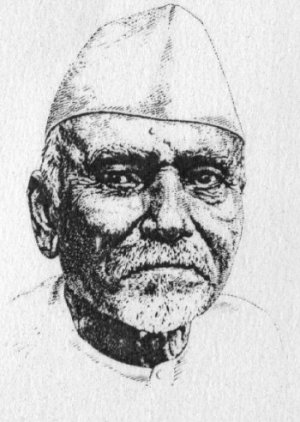 Ustad Allauddin Khan
Portrait in India ink by V.N. O'key
It may well surprise many to know that composers and music directors like Vishnudass, Shirali S.D.Burman, as also his son R.D.Burman, Jaidev and Roshan and the great Timir Baran of New Theatres fame, immensely benefited from their association with the acharya in the early days of their career.
Those fortunate old-timers, who had the opportunities to hear his great music, recall with nostalgia the characteristic, profoundly moving strain, in the deep, powerful notes of his sarod and the quality of humility in his music, which would gradually reach the listener without his knowing it. Behind this humility lay an intensely religious approach to art and to life itself. It lent a halo of universality to his music.
K.L. Kamat/Kamat's Potpourri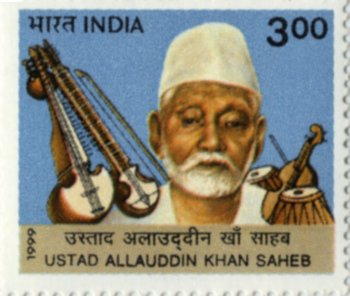 Ustad Allauddin Khan Sabeb

In this context, it will not be wide off the mark to describe the acharya's music, as an expression of spiritual purity, something which strikes a chord of divinity inside us. This relationship has been inherited, especially in India, where the tradition of music has been enriched by musician-saints like Swami Haridas, Surdas, Tyagaraja, Shyama Sastry, Muttu Swami Dikshitar and Vishnu Digambar Paluskar. Acharya Allauddin Khan also belonged to this tradition of musician-saints, and probably, is the last of these greats.
Honors accolades and distinctions came his way in profusion including the Padma Vibhushan, the second highest civilian honor. To the manner born, however, the reclusive acharya remained indifferent to them.

See Also:
Remembering Illustrated Weekly -- Article remembering the glory days of India's premier weekly during 1970s and 80s. Includes links to abstracts of many important special issues.
Indian Music -- Miscellaneous topics on Indian music explore musical instruments, styles, musicians, and other Indian musical trivia