Annapurna Devi
by Mohan D. Nadkarni
Published in Woman & Home, MID-DAY on January 9, 1998.
Annapurna Devi, who? There are a good many connoisseurs of Hindustani music, specially in the present generation, who are apt to ask this question. The more knowledgeable among them may well pretend to know of her, rather ironically, simply as the guru of today's musical stalwarts like Hariprasad Chaurasia and the late sitar maestro, Nikhil Banerjee. Even to those from the older generation, who know about her, her family back-ground, erudition and scholarship and high degree of achievement as a performer and teacher, still remain baffled by certain traits of her personality. She remains an enigma or mystery to most, because she has deliberately kept herself and her prodigious talent away from the limelight.
Private collection of Mohan D. Nadkarni/Kamat's Potpourri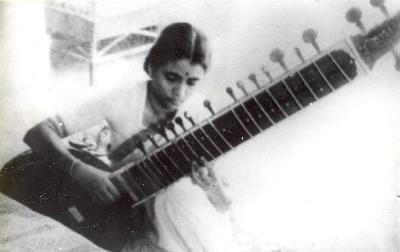 Annapurna Devi
Daughter of Alauddin Khan, and former wife of Ravishankar
By all accounts, Annapurnaji's public concert was staged in the early '50s, and no one has ever heard play her favorite surbahar or sitar in public or private ever since. Her students vouch for the fact that she imparts instruction through singing and not through playing her instrument, and she conducts her lessons only in the late hours of the night.
What is more, she has remained inaccessible and unapproachable even to her own students without prior consent and appointment. Nor does she make herself available on telephone, nor entertain any visitors. She is allergic to press reporters, critics and lensmen, so much so, that it might well sound pretentious for anyone who might hazard the task of writing about her!
Against this background, I consider myself singularly lucky in being known to Annapurna Devi and something more. I also had the rarest chance of listening to her recital on the surbahar, albeit a brief one. This was during my visit to Delhi way back in 1955. I chanced to meet her former husband, sitar maestro Ravi Shankar, who was then the founder-conductor of Akashvani Vadya Vrinda and, in response to my suggestion, he readily agreed for an interview by me. The interview was spread over two sessions, the fast of which took place in the AIR studios, while the second one was held at his residence at Ashok Road at his suggestion.
It was a breakfast session, after which Annapurnaji, responding to my request, condescended to play alap in Shudh Sarang for me, amid her household chores. I say, without exaggeration, that the music came to me as a revelation. It was truly great music, the memories of which have remained with me forever.
I met her for the second time in 1964. This was just before my departure from Mumbai on a two year posting on special duty in Goa. Ravi Shankar had then moved to Mumbai and set up his home with his family at Malabar Hill. He had invited me and my wife to have lunch with him at his residence. It was informal but intensely homely get together between two families. It was during this heartwarming visit that Annapurna Devi showed great qualities of head and heart - a hospitable hostess, a fine conversationalist and unquestioned master of the culinary art. I have nostalgic memories of this visit, too.
The chance for yet another visit to Annapurna Devi came my way in September 1980, but in a slightly different context. The Illustrated Weekly of India (now defunct) had planned a special issue on Indian classical music. Mr. M.V. Kamath, the then Editor, had commissioned me to collaborate with him and his colleagues in the onerous task.
Initially, a questionnaire was framed, and mailed to representatives of various interest groups operating in the wider field of Hindustani music from performing musicians, scholars and authors to connoisseurs, critics and concert sponsors. I had with me two common friends known to her and my visit was intended to expedite her reply to the questionnaire addressed to her earlier.
Annapurna Devi warmly welcomed us and remembered my earlier meetings with her. It was as though she read our mind when she suddenly told us, politely but firmly, that she was not interested in answering the questionnaire, much less giving an interview or a photograph!
During the conversation, which lasted almost an hour, we tried to draw her out and gently persuaded her to speak on the changing trends in Hindustani music. After some hesitation, she obliged us by giving a brief but marvelous evaluation of the current musical scene, but not before getting an assurance from her that nothing she might say would appear in cold print. Whatever we heard from her had to be committed to memory, so to speak, because there was no question of taking down notes of whatever she said.
Observations on Music
Annapurnaji's observations ran on the following lines:

"Unfortunately, most of our musicians are mediocre - artistes anxious to make a dash to the stage before they had even learned to crawl, in the green room... While the earlier Ustads and Pandits were tightfisted in the dissemination of their vidya, today there are not many gurus left to hand it down. Admittedly, we still have some very good `concert artistes', but most of them are either too busy or are not erudite enough to create a proper parampara. The result is that many so-called artistes (including some of our most popular ones) are projecting before the audience distorted or even vulgar images of an art which is infinitely noble - an art which has the power to lead you into a trance onto the shores of tranquility.''

True enough, there is no record, tape or any public evidence of Annapurna Devi's music. Here again, I have been lucky to hear a live recorded piece. It is not a solo on the surbahar, but a jugalbandi, in which she partners with Ravi Shankar on the sitar. The piece is from a private collection and not for the benefit for the future generation. It is also on record that even Ali Akbar Khan, her elder brother, reportedly hesitates to play his Sarod in her presence. Besides, it speaks volumes for the maestro's open-mindedness and magnanimity that he sent his sons Ashish Khah and Dhyanesh Khan (who died prematurely at 49 in 1990) to benefit from guidance from his sister in their sarod-playing. The father initiated his daughter into the mysteries of Hindustani music while she was still a child, and thoroughly groomed her in vocal music, the sitar and the surbahar for over 15 years. To the master's touch, she added an amazing degree of practice with singular dedication and determination under the vigilant but affectionate guidance of her father.

Annapurna Devi's marriage to Ravi Shankar was in compliance with the suggestion of Uday Shankar, his celebrated elder brother. The marriage was solemnized much against the wishes of many relatives and friends from both sides. But Allauddin Khan was secular in the true sense of the term, and he practiced what he preached. A humanist to the core, he made no distinction between man and man in point of social and economic status. But he believed that a newcomer into the family should be one with a catholicity of outlook. That is how Allauddin Khan blessed his daughter's marriage.

Stories galore have been heard about Annapurnaji's retirement from public life to that of a recluse. Whatever the truth in such stories, there is reason to surmise that her self-imposed isolation may well be the culmination of a series of upheavals in her personal life, some of which are too well-known to need a recount here. Her father's death in 1972, followed by the death of her only son, Shubhendra, seven years ago, were possibly the most tragic happenings in her life.

Annapurnaji was undoubtedly the darling child of her father and she has imbibed not only his music but also his philosophy of life. In reply to a question put to her by an interviewer many years ago, she had reportedly cited the reasons for choosing a life of self-denial, thus: ``It was during my years of studentship that my father would repeatedly tell me that my music should not be treated as a product for public display. It was a means of achieving one's own fulfillment, which should lead to one's own development as a human being." Not for nothing is, Annapurnaji described as the very embodiment of Allauddin Khan's pure arid deep devotion to his music. She is rightly hailed as the ultimate reference point to the musical ideology of Allauddin Khan. It is only in her that the quintessence of the Maihar parampar is preserved. This reminds me of what Amir Khan, one of the greatest vocalist of our time) reportedly told one of his close friends. He had said: ``Annapurna is 80 per cent of Ustad Allauddin Khan, Ali Akbar Khan is 70 per cent and Ravi Shankar is about 40 per cent".

Annapurna Devi has reared an impressive array of shishya parampara. The line-up includes, besides those mentioned earlier, Shashwati Ghosh, Amit Hiren Roy, Sudhir Phadke, Daniel Bradley, Peter Van Gelder, Sandhya Apte, Hemant Desai, Rooshikumar Pandya and Prabha Agarwal, all sitarists; Bahadur Khan, Jyotin Bhattacharya, Uma Guha, Basant Kabra, Pradeep Barot, Stuti Dey, and Suresh Vyas, among sarodists; and Nityanand Haldipur and Milind Sheorey, among flutists.

Even though she has remained aloof from the world of concert music, Annapurna Devi's greatness. as an erudite guru has been mercifully recognised and appreciated at the official level. She has been a recipient of the Sangeet Natak Akademi award ( 1991), Padma Bhushan (1977), and Sharngadev Fellowship of Sur singar Samsad (1988). She has served as professor of music at the NCPA since its inception, till 1983 and presently Is the guiding spirit behind the activities of Acharya Allauddin Music Circle in Mumbai.

Indeed, such distinctions do not have any significance and meaning to Annapurnaji. So immense has been her contribution to our musical heritage that one is tempted to say that by bestowing these honours on her, the bestowers have honored themselves.

See Also:
Indian Music -- Miscellaneous topics on Indian music explore musical instruments, styles, musicians, and other Indian musical trivia