Bandipur National Park - Bengal Tiger
by Dr. Krishnanand Kamat, Bangalore
Appeared in Chandana Magazine Dept. of Telecommunications, 1988
Bandipur Tiger Reserve is situated at a distance of 224 kilometers from Bangalore. Eighty kilometers from Mysore, on the Ooty-State Highway. In 1932, the Maharaja of Mysore set up ninety square kilometers-Gama-sanctuary at Bandipur. In 1941 the sanctuary was named as 'Venugopal Wild Life-Park' and the area was extended to eight hundred square kilometers. After independence it was converted into Bandipur National Park with a total area of eight hundred and seventy four square kilometers under its jurisdiction. 'Project Tiger' as a central sector plan scheme was initiated in the year 1973-74 in Bandipur National Park.
The reserve handles every year about thirty thousand visitors out of which about ten thousand are from abroad. The information center cum children's library welcomes the visitors and the folders and brochures explaining the basic values of conservation and the aims of the Tiger Reserve are supplied free of cost. There are eighty four beds in various cottages and dormitories to cater to the needs of the visitors. There are nine forest lodges located at fifteen to eighteen kilometers' distance for the use of the forest inspecting officers. The tourists are allowed to visit an area of 105 square kilometers of the Reserve. The tourists and vehicles are allowed inside the park between 6 A.M. and 9 A.M., and 4.30 P.M. and 6.30 P.M., guide-service is available for tourists – a guide accompanies the visitors' vehicle.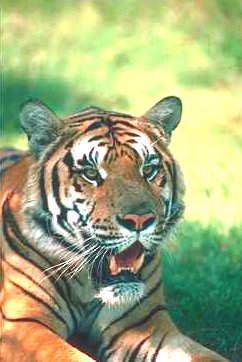 The Bengal Tiger

The Indian tiger is commonly known as 'Bengal Tiger' (felis tigris) and belongs to the cat family. The animal is also found in Java and Sumatra, but not found beyond southern Asia. The tiger is about the height of a lion, but the body is longer. It is of lively fawn color above a pure white below, irregularly crossed with deep brown stripes. It is clothed with short hairs, and has no mane. In habits the tiger is far more active and agile than lion, and exhibits a large amount of fierce cunningness. It generally pitches upon a concealed spot near water sources and springs upon the animals that approach to drink water.
Its tread through the thick forest, is noiseless and stealthy. It avoids danger rather than confront it, unless when brought to bay, when it turns an appalling fierce front to the foe. The tiger does not generally readily attack man unless it is forced to become a man-eater because of injury, hunger and starvation. Tiger-hunting was a favorite sport in India, which endangered its very existence itself. This necessitated introduction of 'Project Tiger'. There were only eleven tigers in Bandipur National Park when the count was taken for the first time in the year 1972. Now that number has risen to more than forty -- as the claim goes.

See Also:
Wild and Dangerous -- Tigers, Lions and other predators of Indian jungle. Includes pictures of a white tiger, and an article on the now extinct Indian Cheetah
Kamat's Animals -- Real, imaginary, and holy Animals from India. Includes elephants, tigers, birds, insects, and other fantastic creatures.