Depiction of Everyday life in Bhatkal Temples
Jyotsna K. Kamat
Paper published in Giridharashri Essays on Indology
(Dr. G.S.Dikshit Felicitation Volume)
Ed Dr. A.V.Narasimha Murthy Dr. K.V. Ramesh
Agam Kala Prakashan Delhi 1987
Martin Alfonzo de Souza, the Portuguese Viceroy of Goa attacked Queen Channa Bhaira Devi of Bhatkal (North Kanara District), killed the subjects with the sword and burnt the town in 1542 A.D. In 1554 A.D. the Queen made a treaty with Portuguese which helped in reconstruction of the town and its temples. Most of the temples that could be seen today are built between 1543 and 1567 A.D. Bhatkal was an important sea-port and therefore a great center of commerce. However Hamilton (1720 A.D.) observed that the entire town was in ruins except ten small temples covered with copper and stone. These temples are the basis for present study.
Queen Channa Bhaira Devi recognized talent and intelligence of the coastal Saraswat Brahmins and used their services for running local administration. The Saraswats also patronized the coastal trade and amassed wealth which they used for philanthropic work and temple constructions. Santappa Nayak, who traded in horses from Arabia, purchased a piece of land from the Queen and constructed Tirumala temple in 1555 A.D. Petty traders of areca-nut donated liberally for erecting Adike Narayana Temple. Two brothers, Bala Kini and Narayana Kini got built Raghunatha Temple in 1567 A.D. In the same year Lakkarsa Kamat constructed Lakshmi Narayana Temple. Sculptures depicting the social life of the period are located in Khetappayya Narayana temple built in 1546 A.D. [1]. Khetu Pai was builder of this temple. Francis Buchanan, the widely traveled British Officer was very much impressed by this cluster of temples and claims that the workmanship and carvings were superior to anything he had seen elsewhere in India [2]. Unfortunately very few people have seen the beautiful monuments.
James Fergusson compares these temples to the Pagodas of Burma, Tibet, Nepal and China [3]. A typical temple consists of 'Garbha-Griha' and a 'Sukhanasi' which is surrounded by stone blinds. The slanting roofs are supported by thick walls or strong pillars to meet the heavy rain fall of the area. 'Garbha griha' roof is pyramidal and bears a 'Kalasha'. Surrounding the Khetappayya Narayana temple, there is big out house used as corridor for seating the visitors, but now converted into residential rooms. On the inner side, along the sides of the corridor, facing the 'Garbha griha' are carved figures based on social life of the period. They are weather-worn and over grown with moss.
Each panel measures about 3' X 4' and located in separate nitches. Inter-nitch spaces are decorated with floral designs. The nobles are shown with Kulai, an elongated cap typical of Vijayanagar times and fine dhotis. The common men have their turban and 'panche' extended down to knee. The village-folk have just a head-band and loin-cloth, neck-laces, armlets are not overlooked. The Nobles and religious personalities have a 'shawl' on their shoulder. Warriors are depicted with their daggers. Women have prominent hair balls tied just behind the head. These sculptures indicate that some type of brassieres had already come into existence in the sixteenth century. Either thin sarees or sewn pyjamas were in use. The ornaments were very simple and down to earth.
The successive panels are not necessarily related. Based on the theme employed, the panels could be grouped as under:
Every Day Life
The sculptor has made use of the themes which commoners usually overlook. Milking of an un-obliging cow (Fig. 1) is very realistic. The calf is made to stand in front as stimulus for flow of milk. A standing lady is controlling the cow and the housewife is milking by sitting on a small stool.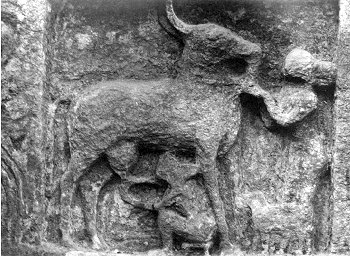 Figure 1: Milking an un-obliging Cow
In another panel a lady is churning the curds, in standing position. In a sculpture, a lady squeezes water from her long hair indicating that she is through her bath. Another lady, probably an assistant, rushes with a towel (Fig. 2). Even those days a man could not escape an oil bath. Two ladies are engaged in giving a special bath to the man of the house (Fig. 2A). Make-up of an young woman is very realistically brought out. While she applies kum kum with the aid of a convex mirror, the assistants are busy in swinging chambara to keep her cool and offering unguents to the lady (Fig. 3). A lady giving a helping hand to her husband in tying his turban is shown in another panel (Fig. 4). Servants in waiting, is the subject for several sculptures. A servant sporting a monkey-cap holds an umbrella for his master (Fig. 5). A Noble while listening to a request from his subject gets a leg-massage from his boy servant (Fig. 6). In an artistic panel, a tired house-wife stretches herself on a cot, a male servant is giving a soothing massage to her legs (Fig. 7).
K.L.Kamat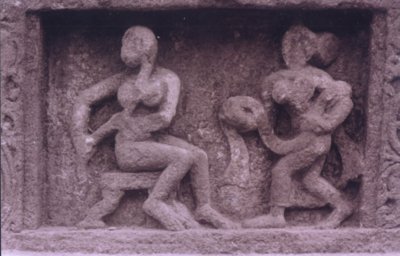 Figure 2: A Towel for the Lady
Leisure and Pleasure
The sculptures give many ideas of the modern man as how to use his leisure for pleasure without spending any money. In one panel, the husband relaxes on a cot while the wife caresses him and picks lice from his long hair (Fig. 8). In order to feel close together a couple sits on the mattress of a coach (Fig. 9) and engage themselves in hair-dressing and discussion. A young couple may use a swing to laze away time (Fig. 10). A noble may use his spare time to brief his beloved what is going on in the town (Fig. 11). Young and old use to love street shows alike. A semi-nude snake-charmer plays on his pipe and arouses his cobra (Fig.12). His monkey has been shown as waiting to show its tricks to the audience. For a young girl, mating dogs are wonders of the world (Fig.13). It is very significant that the sculptures has included a parrot devouring a fruit to indicate that hunger knows no leisure or pleasure.
K.L.Kamat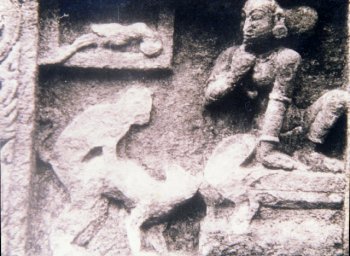 Figure 13: Wondering the Wonders of Life
Child Welfare
Child-birth and its care has received special attention. A lady seated on a cushioned platform is in labor-pain (Fig.14). Two women try to sooth her pain and console her, third one is ready to receive the child. In one panel, a father bends forward to kiss his child seated on its mother's lap (Fig. 14A). In the second one, the child is being fondled by the father, and the mother is busy picking the lice from the husband's head. In the third, the child is having free access to mother's milk. In the fourth one, a middle-aged rural lady-doctor examines her well to-do patient (Fig. 15). Her child unmindful of the situation suckles.
Education
Music and dance received equal importance as formal education. A commoner girl is engrossed playing a string instrument while her teacher points out her mistakes (Fig. 16). A panel depicts two fully engrossed drummers (Fig. 17). These drums are distinct from traditional 'mridangam' and are still in vogue in coastal Karnataka. In another, a drummer and flute player form a team and give accompaniment (Fig. 18) to a dancing troupe. In several panels, the dancers themselves are playing the musical instruments. In one, a man wearing a turban and pleated skirt gives a dance performance and simultaneously plays his musical instrument held in both the hands (Fig. 19). In another, a man is in singing posture. The fact that performing troupes of men and women moved together is brought out by a panel in which a man is in quaint dress and holds a stick, while his companion is in a skirt (Fig. 20).
Gymnastics
Physical activities such as wrestling, archery, hunting, fight with animals and acrobatics are well represented in these sculptures. In a set of three panels, different stages of Indian wrestling are depicted (Figs. 21 a, b, c). Two nobles in a duet fight is the theme of another panel. That the fair sex was not excluded from practicing archery is proved by a panel in which an archer removes a thorn from his female companion's leg. In one of the sculptures, two hunters are attacking a ferocious boar (Fig. 22). One employs a bow and arrow and the other almost rides on the boar and inflicts a deep wound with his small dagger. A dual with a tiger is the theme of another panel. The sculptor has not forgotten to include a tiger, hunting a boar. A man bending a crow bar also finds a place in these panels. In a beautiful panel a village matron is inviting a youth for a bird-fight (Fig. 21 d).
Romantic Situations
Nothing prevented the sculptor from including romantic and erotic scenes in the temple premises. A lover on a cot (Fig. 23) is engaged in caressing his beloved, while an assistant is busy in supplying drinks to the couple. In another panel, a lover fondles a lady's breast who is engrossed in her make up. In many sculptures men are involved in different sexual acts while the women folks are pre-occupied in their domestic duties. In one of them, young lovers stretch themselves on a cot, converted with a soft mattress and provided with a pillow (Fig.24). A dagger in the man's hand indicates that he is a warrior. The lady is wearing a pair of sewn pyjama. In another, a youth is engaged in self-eroticism and his facial expression indicates that he enjoys the act. In one of the panel; a man offers his services to a women to overcome her sexual urges. There are numerous panels which depict different position and stages of coitus. They include natural, un-natural and highly imaginary, and they remind similar themes of Khujaraho temples. It seems even the ascetics could not refrain from temptation of women. In one of such panels, two aroused nude saints are engaged in accosting a semi-nude lady to yield.
Crime and Punishments
Two house-wives decide to settle their score in the street and obviously employ broom-sticks for the purpose (Fig. 25). In another panel, a lady is on verge of punishing other lady with a stick who pleads mercy and tries to give a personal explanation for the misunderstanding.
K.L.Kamat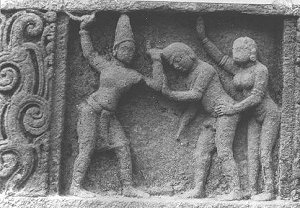 Figure 26: Warrior Punishing Wife's Paramour
In an excellent panel, a warrior is shown as punishing the paramour of his wife, after noticing them in a compromising pose (Fig. 26). It is of great interest that the wife pleads with the husband to forgive her lover! In a similar situation a husband catches hold of his wife by her hair and kicks in her belly. In a slightly different situation, another husband ties wife's hand above her head and spanks with a stick.
Religious Themes
Tolerance towards all the religions is very much in evidence in these sculptures. While a Hindu priest reads a palm-leaf manuscript and explains it to an attentive noble (Fig. 27) a small stool (tavenkolu) is meant to keep the manuscript. A Jain saint, seated on a raised platform, interprets the religious writings to an humble commoner (Fig. 28). In another panels, presumably a Buddhist monk, has completed a discourse and a Noble expresses his gratitude to the monk (Fig. 29). In another panels, monks and saints engaged in different activities are also depicted. In one, a meditating monk is in 'padmasana', while in another, a jatadhari saint wins a point against a noble. There is beautiful panel in which people attending an annual car festival festival of a temple is depicted (Fig. 30).
Some of the above sculptures are in decaying-condition and need urgent protection from sun and rain. These panels may be photographed and given wide publicity so that scholars, researchers, tourists and general public are attracted by them. These are very rare temples and hence deserve all the care and attention of the Archaelogical and Tourist departments.
Notes and References
Karnatak Inscriptions. 84 of 1939-40; A.R. – K.R.I., p. 73.
F. Buchanan, Journey III, pp. 132-33.
Fergusson, History of Indian and Eastern Architecture, II, p. 75.

See Also: