Biography: Amrita Pritam
The famous Punjabi poetess Amrita Pritam (born: 1919 in Punjab, died 2005) had the rare gift of ability to give tender expression to human sorrow and alienation. She wrote with courage and without any inhibitions. She witnessed the human tragedy of Partition of India and aftermath, and portrayed its pathos the degradation of human spirit it caused in her literary works. Her autobiography 'Revenue Stamp' bears a stamp of her creativity sensitivity, and the transparency.
V.N. O'key/Kamat's Potpourri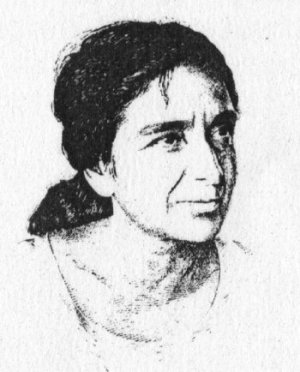 Amrita Pritam (1919 -2005)
Portrait in India ink by V.N. O'key
Pritam was awarded the prestigious Jnanapeeth in 1982. Her other works include "Pinjar", "Village No. 36", and "Stench of Kerosene" (translated by Khushwant Singh).