Biography: Anandannappa Jnanappa Doddamati
The name of Mr. Doddamati conjures up our brightest vision. His unaffected courtesy, frank kindliness and patriotic zeal have won him lasting fame.
He was born at Jakkali, March 8th, 1901. He is the President of the Dharwar District Harijan Sevak Sangh he rendered very valuable services.
K.L. Kamat/Kamat's Potpourri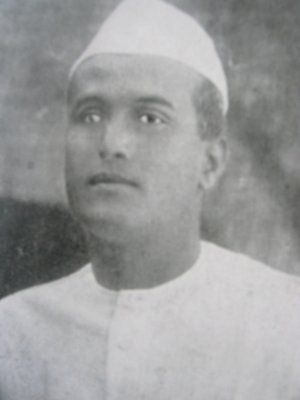 Anandannnappa Jnanappa Doddamati

When Mahatma Gandhi visited Takkali village Mr. Doddamati gave a magnificent donation of Rs.1100 towards the Harijan Fund.
He is a sterling patriot. In the Civil Disobedience Movement he played a very prominent role. He was the Director of the K.P.C.C .He was arrested and sentenced to six months rigorous imprisonment and a fine of Rs.2000.
He is the driving force of all political and social movements in the state of Karnatak. He has given rich donations to many institutions. He presented a golden Thalki to Pandit Jawaharlal Nehru. He is elected to the Assembly form the Dharwar North General Rural Constituency. He made history by speaking in Kannada in the Assembly. His rich, deep voice, the natural and home-spun language, free from rhetorical trickery but full of moral fervor, his speech held the house in a spell. The whole of Karnatak rang with unbounded joy.
Mr. Doddamati has the free gift of sympathy. He is kind to his heart's core. This has made him the idol of Karnatak.
Source: Haripura Congress Souvenir, 1938

See Also:
Dharwad -- Dharwad is the home of delicious phedas, delicate Kasuti saris, of Hindustani classical music, and a seat of learning.
Freedom Fighters of Karnataka -- In fighting for freedom of India, these leaders in fact fought for unification of Karnataka.