Biography: B.C. Lagu
Dr. Lagu was born at Sholapur, October 22nd 1895. He received his early education at Sangli. Even as a lad patriotism was the breath of his nostrils. He matriculated in 1913 and joined the Fergusson College. Then he secured admission to the Grant Medical College.
K.L. Kamat/Kamat's Potpourri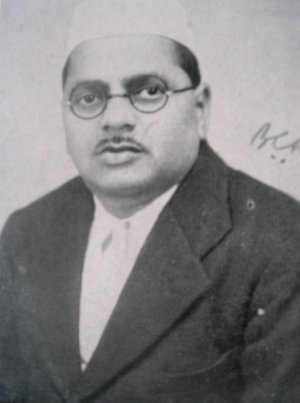 B. C. Lagu

At that period India was like a boiling cauldron the fires of which were not damped. The political upheaval kindled his patriotic embers. In 1921 he left college in obedience to the boycott resolution. Then he took his "Ayurvedvisarad" degree of the National University. For some time he was taken on the staff of the National Medical College, Bombay.
In 192 he joined the staff of the Tilak Mahavidyalaya. He is an honorary life member of the institution and is working with a single-minded purpose to retrieve the indigenous medicines. In1925 he started the Tarachand Ramnath Free Ayurvedic Hospital]. This institution is very unique and has rendered conspicuous services in the spread of Ayurveda.
He participated in the Civil Disobedience Movement and courted imprisonment twice. Since 1924 he is a member of the M.P.C.C. he has organized many village Congress Committee and is a member of the A.I.C.C. he is one of the earnest workers in the cause of national education.
Dr. Lagu has a genius for action. His activities area single proof of his disinterested passion for the common good. He is an embodied idea. His life strings are bound up with the revival of the indigenous arts. The idea of his gospel is now visibly ebbing.
He is not an emotional visionary. As a revivalist. He has shown surprising wisdom. His every act has the signature of high talent.
Source: Haripura Congress Souvenir, 1938