Biography: B.S. Kathale
Mr.Kathale was born at Barsi in 1895. He participated in the Civil Disobedient Movement and was sentenced to nine months of imprisonment, and a fine of Rs.500. he is the President of the Taluka Congress Committee and the vice-President of the Harijan Board, Sholapur. As the President of the Virashaiva Vidya Mandali he has largely contributed to the growth of the Nationalistic ideals in the community. He is one of the distinguished leaders of the Lingayats.
He is calm ad he is firm. He has subordinated the interests of his community in the larger of the nation. He is at once a partisan leader and a patriot. His political work has carried to the soul of the adorers of liberty a sentiment of joy.
K.L. Kamat/Kamat's Potpourri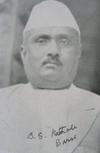 B. S. Kathale



Source: Haripura Congress Souvenir, 1938