Biography: Babu Jagatnarain Lall
Babu Jagatnarain Lall was born in 1897 at Gorakhpore. He took his M.A. from Allahabad University and joined the Bar in 1917. his natural fervor very soon plunged him into social, political and literary public activities. He also joined the Bihar Provincial Congress Committee of the Pre non-cooperation days and gave up his practice and plunged into the Non Cooperation movement in December 1920.
K.L. Kamat/Kamat's Potpourri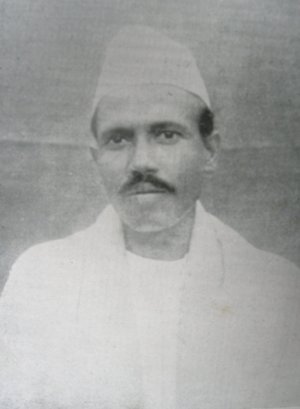 Babu Jagatnarain Lall

He has been one of the most active and indomitable public men of the Province and the country and was convinced more than seven times. He joined the Bihar Vidyapith as one fo its foundation members, became a professor of Economics, and acted as the general secretary and later as the President of the Patna District Congress Committee the Assistant Secretary of the Bihar Provincial Congress Committee.
He funded and edited the "Weekly Mahabir" for several years from Patna. He was a member and leader of the independent Congress Party in the Bihar Legislative Council from the years 1926 to 1930 when he resigned from the Council and went to jail leading the Salt Satyagraha Campaign at Patna.
He was the President of the Bihar Congress Nationalist Party and was returned with a thumping majority at the last general elections to the Legislative Assembly.
The zeal, the ardor and the ability with which he is carrying on his public duties inside the Secretariat and outside in the public have evoked the respect and admiration of all sections in the province.

Source: Haripura Congress Souvenir, 1938