Biography: Banju Ram Gandhi
His own nature has a healthy vein of political leadership. He is able without taxing his imaginative faculties to put himself in the position of an able Minister. At the same time he has an intellectual courage which has amazed his colleagues. No man was ever so free form mental cowardice which has often paralyzed fine intellects.
The Hon'ble Mr. Banju Ram Gandhi was born at Dera Ismail Khan, October 1888. In 1906 he matriculated from the Church Mission High School. Then he joined the D.A.V College, Lahore. The influence of Lala Hardayal was profound. In 1908 he passed the Intermediate examination and left the college. He edited the Frontier Advocate and the Punjab Advocate. For some time he worked as a teacher in a local school. Thereafter he joined the Dayal Singh College and graduated in 1914. as a student of Aligarh College he experienced a very pleasant sensation. He was expelled from, that college for his advanced political views. In 1916, he graduated from the Law College, Lahore.
K.L. Kamat/Kamat's Potpourri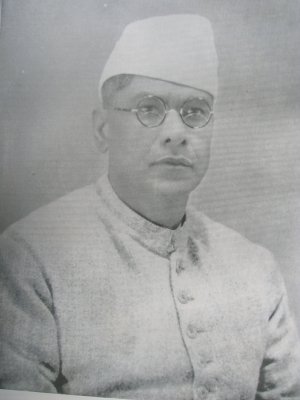 Banju Ram Gandhi

As a student Mr. Gandhi displayed some of the best qualities which he put forth in his public career. He had a healthy detestation of despotic rule. The struggle for freedom found him a sagacious sympathy. He never stooped to use unworthy means to compass party ends. These traits have helped him to enrich the history of the Frontier with the addition of a fine character.
In 1917 he set up practice at Mianurli. In 1922 he participated in the Non Cooperation movement. He edited a daily called "Bharatha Mitra". In 1930 he was imprisoned for ten months for taking part in the Civil Disobedience Movement. He contested elections from Dera Ismail Khan and emerged triumphant. In Dr. Khan Saheb's Cabinet he holds the portfolio of Finance. He was the President of the Mianurli Bar Association. For many years he was a member of the P.P.C.C and the A.I.C.C, as the President of the District Congress Committee he rendered memorable services.
He is a keen student of comparative politics. His outlook on life is rather serious. In his lifetime he has not read a novel. For, he never believes in "frictions" and he is interested more in the "realities" of life.
Source: Haripura Congress Souvenir, 1938