Biography: Begum Hazrat Mahal
Begum Hazrat Mahal was the wife of Nawab Wajid Ali Shah of Lucknow, Uttar Pradesh, Hazrat Mahal was known as the Begum of Avadh (a.k.a. Oudh). She was stunning beautiful, and used her courage and leadership qualities to rebel against the British East India Company during the First Indian War of Independence.
K.L. Kamat/Kamat's Potpourri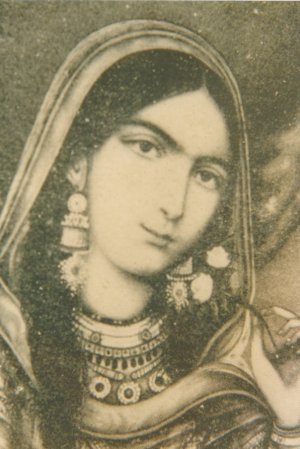 Begum Hazrat Mahal

After her husband had been sent away in exile to Calcutta, she with the cooperation of a zealous hand of supporters like Sarafaddaulah, Bal Krishna, Raja Jai Lal and Mammon Khan worked incessantly to revive the fortunes of Avadh. She seized control of Lucknow in association with the revolutionary forces and set up her son, Prince Birjis Qadr, as the ruler of Avadh, Hazrat Mahal worked in association with Nana Saheb but later escaped from Lucknow and joined the Maulavi of Faizabad in the attack on Sahajahanpur. She was driven from pillar to post, but she made her retreat with fortitude. She rejected with the contempt the promises of allowance and status held out to her by the British against whom her hatred was unrelenting. In the end after bearing misfortunate and misery throughout the period of resistance, she found asylum in Nepal where she died in 1879.