Biography: Bhagirathi Mahapatra
Mr.Mahapatra was born in 1892. in 1914 he graduated from the Ravenshaw College, Cuttack. He took his M.A. degree in 1916 and Bachelor of Law in 1918. For three years he practiced and joined the Non-cooperation Movement.
In 1921 he was elected the first Secretary of the Provincial Utkal Congress Committee. In 1922 he was arrested for his political activities and convicted for two years and one month imprisonment. Since 1921 he is a member of the A.I.C.C. he was the director of Khadi Association. In 1932 his property was attached by the government.
K.L. Kamat/Kamat's Potpourri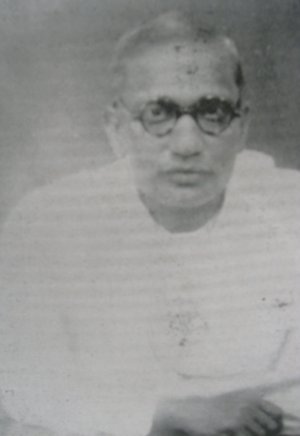 Bhagirathi Mahapatra

He was arrested while on the way to the Delhi Congress and was detained in Alipore jail. In 1935 he was elected the secretary of the Utkal Provincial Congress Committee. In 1937 he was elected the Chairman of the Cuttack Town. He was elected unopposed to the Haripura Congress.
Source: Haripura Congress Souvenir, 1938

See Also: