Biography: Bhimrao Balaji Potdar
Mr. Bhimrao was born at Sholapur in 1887. He springs from a very aristocratic family. In 1905 he matriculated from the Sardar High school. He took his B.A. degree in 1911 and L.L.B in 1913. he was called to the Belgaum bar in 1914.
K.L. Kamat/Kamat's Potpourri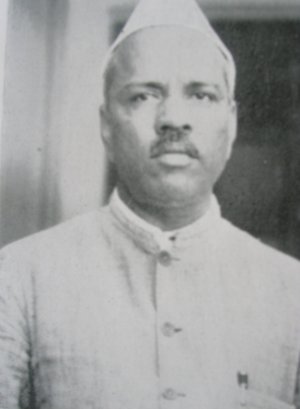 Bhimrao Balaji Potdar
Potdar was a Congress leader from Belgaum
Since 1916 he is a member of the Belgaum Municipality. For six years he was its President. For fifteen years he is a member of the District Local Board. For three years he was the Vice Chairman of the Belgaum Co-Operative Society and the Urban Co-Operative Society. For twenty years he was the Chairman of the District Central Bank and is its present Director.
In 1924 he was elected General Secretary of the Belgaum Congress. He is a member of the A.I.C.C. and the K.P.C.C. He is the supervisor of the Khaddar Bhandar. He is elected to the Legislative Council from Bijapur, Belgaum, Sholapur Districts, polling the highest number of votes.
Mr. Bhimrao has an institution to grasp the real, the concrete, the kernel of a thing. It is this decisive nature that is the key to success. He is possessed of nobility, and dignity. His powers of conversation are marvelous. He is one of the chosen chieftains of Karnatak, and is an astounding example of energy.
Source: Haripura Congress Souvenir, 1938