Biography: C.R. Deogirikar
Mr. C.R.Deogirikar was born in 1898. In 1920 he graduated from the Fergusson College. For sometime he worked as a head master in the Poona Cantonment Education Society's School. Thereafter he was appointed the editor of the "Chitramayajagat".
In the polemics of journalism Mr.Deogirikar occupies a unique position. He wields a very lively pen. The grace, the tact and the refinement of tone of his writings have made him a general favourite of the readers.
K.L. Kamat/Kamat's Potpourri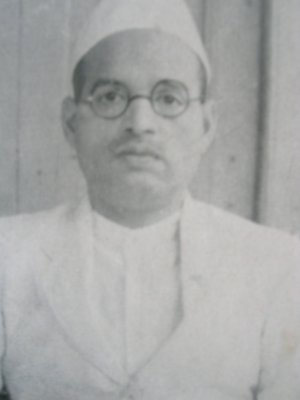 C. R. Deogirikar

In connection with the Meerut Conspiracy Case his Office was raided. In 1930 he participated in the Civil Disobeidnece Movement. He courted imprisonment twice. In 1932 he was again sentenced to eighteen months rigorous imprisonment. He also partook in the individual Civil Disobedience Movement and was sentenced to six months imprisonment.
Since 1934 he is a member of the A.I.C.C. he was also the President of the City Congress Committee. He worked as a secretary of the Maharastra Provincial Congress Parliamentary Board.
He is blessed with a fund of youthful vigor. His amiable nature is the key to his perennial popularity. Not to know him is a personal misfortune.
Source: Haripura Congress Souvenir, 1938