Biography: Chandrashekhar Azad
K.L. Kamat/Kamat's Potpourri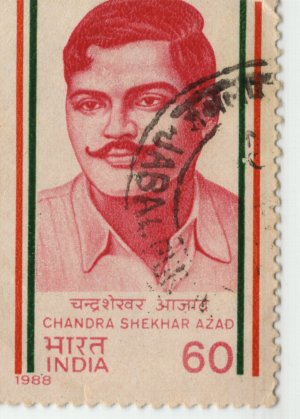 Chandra Shekhar Azad, Revolutionary, Freedom Fighter
Detail from an Indian Postal Stamp
Chandra Shekhar Azad (1906-1931)

Chandra Shekhar was born on 23rd of July in 1906 in village Bhavra in Jhabua district of Madhya Pradesh to Pandit Sitaram Tiwari and Jagarani Devi. He received his early schooling in Bhavra. He studied Sanskrit and other Hindu scriptures at the Sanskrit Pathashala at Varanasi.

The waves of freedom were sweeping India at the time and young Chandra Shekhar was fascinated by and drawn to the great national upsurge of the non-violent, Non-cooperation Movement of 1920-21 under the leadership of Mahatma Gandhi. At an early age, he was caught by the police and was punished with whiplashes during the course of which he gave his name as "Azad" or Free. He is simply known as Azad in Indian history.

After withdrawal of the non-cooperation movement, Azad was attracted towards more aggressive and revolutionary ideals. He joined the Hindustan Socialist Republican Army (HSRA) and was involved in the dare devil Kakori Train Robbery (1926), the attempt to blow up the Viceroy's train (1926), the Assembly bomb incident, the Delhi Conspiracy, the shooting of Saunders at Lahore (1928) to avenge the killing of Lala Lajpatrai.

Azad was constantly on the run and was pursued by the police. On 27th of February in1931, in the Alfred Park, Allahabad, when an associate betrayed him, well-armed police circled Azad. After fighting with the police with a small pistol he had, and left with only one bullet, he fired it at his own temple and lived up to his resolve that he would never be arrested and would die a "free man".
Reference: Babu Krishnamurthy, Ajeya (in Kannada), Rashtrothana Parishad, Bangalore

See Also: