Biography: Durgabai Deshmukh
Durgabai Deshmukh is regareded as the mother of social work in India. She was born in a middles class family in Kakinada in Andhra Pradesh. In 1937 she founded Andhra Mahila Sabha in Madras which to-day runs two hospitals, 2 colleges and 3 high schools. As Member of Parliament she worked to set up a social welfare board in 1953 to carry out programs of educating, training and rehabilitating the needy women, children and the disabled.
K.L. Kamat/Kamat's Potpourri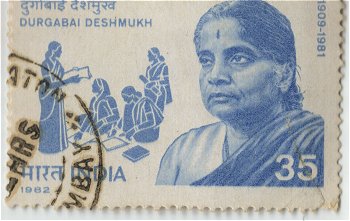 Durgabai Deshmukh
Durgabai Desmukh (1909-1981) was a freedom fighter, visionary, administrator, educationist, social reformer and parliamentarian.
Deshmukh was the recipient of a number of awards including Padma Bhushan and the UNESCO award for outstanding work in the field of literacy.
Source: Press Information Bureau, Government of India, 2000