Biography: K.G. Gokhale
Mr.K.G. Gokhale sprang from an orthodox family on the 14th September 1896. No lad so young was ever endowed with true patriotism like him. At the tender age of eight he collected the "Musti Fund" and the "Paisa Fund".
In 1916 he passed his Matriculation and joined the Fergusson College. The love of his country was the domain passion for him. So he took an active and prominent part in the political life of his time. He collected Rs. 800 to relieve the Punjab suffers and sent it through Lokamanya Tilak, to whom he arranged a "Pansupari". In the 1920 he graduated and joined the law classes.
K.L. Kamat/Kamat's Potpourri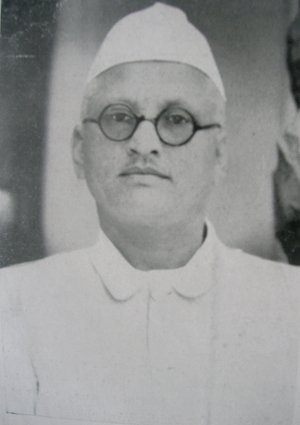 K. G. Gokhale

In his college days he was a combative leader. His exceptional abilities saved him from the common fate of his fellows. He exhibited a serious and steady desire for a political career, when he returned home after bearing the bier of Tilak. The fumes of patriotic fervour enveloped him, and mounted swiftly to his brain.
When the political fervour seized him it impelled him to discard the life at ease. He began his career as a teacher in Dadar School and was the Superintendent of eighteen night schools organized under the auspices of the Social Service League. In 19291 he conducted a Harijan school under the village peepal tree. Then he joined the staff of the National School, Belgaum.
He participated in the Non-cooperation movement and sentenced to one year's imprisonment. For many years he was the member of the K.P.C.C and was also elected its Secretary. Mr.Gokhale was a member of the A.I.C.C. In the Civil Disobedience Movement in Karnataka is a magnificent and just tribute to his organizing faculties. He was the first man in Karnatak to lead a batch of volunteers to Ankola from the Belgaum for Salt Satyagraha.
Mr.Gokhale is a zealous and distinguished member of the singular order of craftsman called journalists. In his political writing, his practical merit consists in his being very crisp and pointed. His compositions are ranked high in Kannada and Marathi journalism. Behind the prison bar he wrote series of pen-pictures and thought provoking articles. They are remarkable for their intrinsic excellence and the elegant simplicity of style.
No journalist ever exhibited in his craft such a buoyant exuberance of spirits. When there was no nationalist daily newspaper in Karnataka, Mr. Ghokale sold some of his wife's ornaments and started one. In 1926 he was the Secretary of the Kannada Sahitya Sammelan. He collected Rs. 800 for the Arts College at Dharwar in 1920.
He is a rhetorician. He has addressed nearly 1500 meetings in Marathi, English and Kanerese. His oratorical abilities have kept pace with his advancing political fortunes. Light humour sparking brilliantly in his speeches, Mr. Ghokale has never stood apart from or above any human being. The comman people have seen themselves in him, and he has seen himself in them. It is this beauty of his spirits that account for his rising from commonness to uncommon heights. He conducted the chamar schools and did work of a bhangi (janitor) in the Harijan quarters and toured Belgaum District as a Secretary of Harijan Sangha.
He worked as a Secretary of the Congress Parliamentary Board. In the last elections he polled 26,866 votes and stood first in the Belgaum South. In recognition of his services he was appointed the office Secretary of the Bombay Legislature Congress Party. Early in life a decided change came over him. He permitted opportunities to amass wealth to pass unheeded. He interested himself more and more in political work. This "cosmic consciousness" was evoked by his talented wife Shrimati Ramabai, who braved with a stout heart the political tempests.
Source: Haripura Congress Souvenir, 1938