Biography: Gangadharrao Deshpande
His superb courage, his brilliancy in oratory, his prodigious learning, his severe purity of life all have combined to give Mr. Gangadharrao Deshpande a station of superiority to others.
In the first scene in "Faust" Goethe has coined the word "superman". That word is strikingly true in the case of Mr. Gangadharrao.
His will is stubborn. He is gifted with the faculty to seize the occasion and form a new resolution. But a sure political instinct enables him not to loose his goal. He is endowed with the instinct for advantage, a trait pronounced among the Italian patriots.
He combines in his own-self Italian finesse, Hellenic directness and Indian discrimination. Seldom has been a career so productive of activity and achievements and so remarkable.
K.L. Kamat/Kamat's Potpourri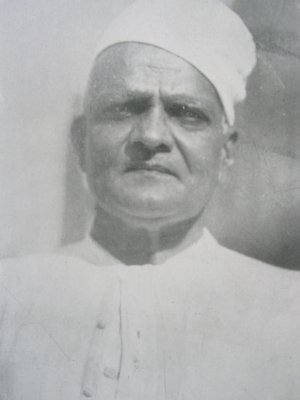 Freedom Fighter Gangadharrao Deshpande


Mr. Gangadharrao is the spirited child of the Indian revolution. He learnt his political precepts at the feet of the Lokamanya. Now he is one of the trusted lieutenants of Gandhiji.

He began his career as a lawyer but hardly practiced. He was not slow in making a mark as a talented cross-examiner. For six years he was the Vice-President of the Belgaum Municipality and trained the people in civic virtues.

During the Partition days his astounding brilliancy captivated the people. He organised many Provincial Conferences and was the President of the C.P and Maharastriya Sessions. He was the pocket edition of Lokamanya Tilak. He was loved for his success and genius; act and taste.

Since 1920 he has sworn his fealty to Gandhiji. The power of the spell exercises over the people of Karnatak is very great. He has unified Karnatak, promoted amity and has made it politically conscious. During the national struggle he was imprisoned thrice.

He is the Agent of the All India Spinners Association and the All India Village Industries Association for Karnatak. He is now the President of the K.P.C.C and a member of the Working Committee. He is agitating for a separate province for Karnatak.

He is styled "The Lion of Karnatak". He has the leonine expression and also its courage and magnanimity.


Source: Haripura Congress Souvenir, 1938