Biography: Gokul Lal Aswa
Prof Gokul Lal Aswa was born at Deoli, January 1902. He received his early education at D.V.School, Ajmer. He graduated form the Benaras University and took the M.A Degree and secured the first rank. His academic career was marked by brilliance and originality.
For some time he served as a teacher in the D.V High School. He was appointed Prof of Philosophy in Herbert College, Kotah. His nationalistic views were an anathema to the authorities. So he resigned his post and joined the Congress.
He took a prominent part in the C.D movement and was imprisoned four times. He was appointed the Dictator of the Provincial War Council. Prof. Aswa has made a scientific study political facts. He was a very unassuming scholar. He is the President of the Provincial Congress and a member of the A.I.C.C.
He is one of the most meritorious of those who maybe called the special servants of the Congress. His name will be long held in grateful remembrance for his brilliant sacrifices.
K.L. Kamat/Kamat's Potpourri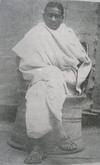 Gokul Lal Aswa



Source: Haripura Congress Souvenir, 1938