Biography: Gulzarilal Nanda
Early in his life Mr. Nanda took to social service. He led a famine relief expedition on foot to Garhwal and distributed food for the famished. His academic career was brilliant. He took the M.A and L.L.B degrees of the Allahabad University. He held the Research Scholarship in economics. In that connection he went on an All-India tour, and submitted a paper on "Industrial Unrest, its Causes and Cure."
K.L. Kamat/Kamat's Potpourri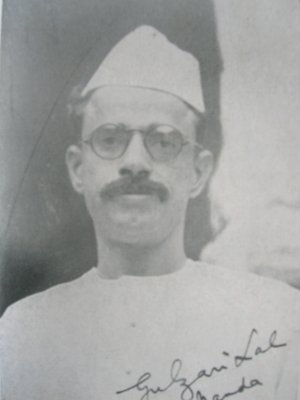 Gulzarilal Nanda
Nanda served twice as interim prime-minster of India (after deaths of Nehru and Shatri).
During his stay in Bombay he interviewed Mr. Shankarlal Banker and asked him to furnish information on the Trade Unionism. Mr. Banker refused to help him as Mr.Nanda was preparing the thesis under the auspices of the Government. His refusal had a profound effect on him. The same evening he wired the Government his unwillingness to further research.
Thereafter he was appointed professor of Economics at the National College, Bombay. Then he became the manager of the Charaka Depot at Ahmedabad. As the General Secretary of the Labor association he fused together the forces of Labor and Nationalism.
No praise will be too high for the pioneer work he did in the cause of Labor. He introduced the principle of arbitration in settling industrial disputes. Every year the Association spends Rs. 50,000 to provide educational facilities for the workers. It has marshaled a volunteer corps of 1000 strong. As a result of his efforts the highest wages are paid to the workers and there are fewer strikes. The Labor Association has the largest membership in India.
Mr.Nanda organized the picketing of liquor shops. Once he was treated to lati and his arm was fractured. He is now the Parliamentary Secretary to the Prime minister, Bombay.
A conviction of virtue, a spirit of service and a habit of mental rectitude bear witness to is work. Treasures of tenderness shine within his being.
Source: Haripura Congress Souvenir, 1938

See Also: