Biography: Gurajada Appa Rao
V.N. O'key/Kamat's Potpourri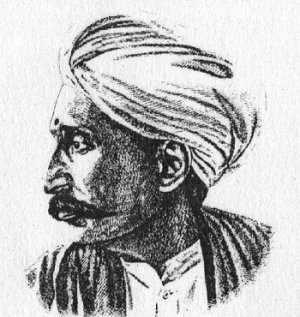 Gurajada Appa Rao (1862-1915)
Portrait in India ink by V.N. O'key
A versatile writer in Telugu, Gurajada Appa Rao used all forms of literature like drama, novel, poetry, short story and essay with equal facility. He unreservedly assimilated in his own culture and language the rich heritage of western classics and produced a refreshing synthesis with new cultural overtones.
Source: Adhunika Bharat Ke Nirmata, V.N. O'Key Felicitation Committee, Bombay, 1989

See Also:
Telugu Desam -- Telugu monuments, history and art come together in this new section on Andhra Pradesh.