Biography: Subbarao Ramachandra Haldipur
Mr. Haldipur was born at Karwar, January 26th 1887. He was educated at the Karwar High School. He played a prominent role in the Satyagraha. He served as the Vice President of the Karwar Taluka Congress Committee and later on became its President. For many years he was the President of the District Congress Committee.
K.L. Kamat/Kamat's Potpourri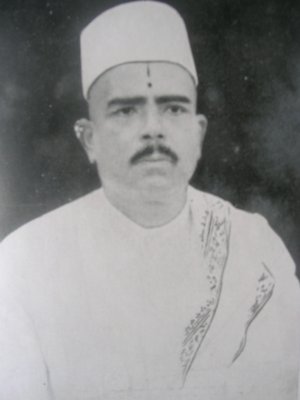 Subbarao Ramachandra Haldipur

In 1930 he was sentenced to one year of rigorous imprisonment and was released when the Gandhi-Irwin Pact was made. In 1932 he was again arrested under the Criminal Law Amendment Act and sentenced to one year imprisonment.
Haldipur served as the chairman of the Supervising Council, Karwar Urban Bank; director, Kanara Industrial and Banking Syndicate, Vice President, the Karnatak Provincial Congress Committee and President, District Local Board. He represents the Dharwar General Rural Constituency in the Council.
He successfully combated the reactionary political forces. He exhorted the applause of old and experienced Congressmen for his political wisdom. Haldipur was known for his good nature and sincere friendship.
Source: Haripura Congress Souvenir, 1938

See Also: