Biography: Prof. Indra Shradhanand
Prof. Indra has breathed into the Indian politics the quality of a lofty moral fervor. He has touched politics with a spiritual emotion that has raised it from stinking ruts to a pedestal of worship.
Truthfulness is the rarest virtue in politics. Prof. Indra has never trifled with truth. He is prepared to lose a cause but never his soul. It is this splendid austerity that has made him a matchless leader.
Prof. Indra was born in 1889. His father Swami Shradhanand was the Prince of Martyrs. He was the bravest soul that ever lived in human clay. He inherited from his father spiritual fire and confident optimism.
He was educated at the Gurukul University of five years. In 1915 he received the highest degree of the Institution, Vidyavachaspati. In 1919 he started a Hind Daily "Vijaya".
K.L. Kamat/Kamat's Potpourri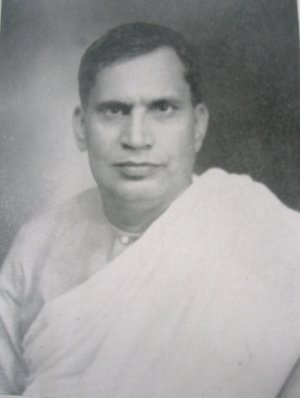 Indra Shradhanand


Prof. Indra is a profound scholar in Hindi. He has unfolded a new chapter in Hindi prose. His writings are singularly charming. They have a challenging beauty of cadence. Every line bears the stamp of his individuality.

He is the Director of the Daily and the Weekly "Arjun" newspapers. His literary productions are known for their clarity of vision and chasteness of phrasing. They include Napoleon, Bismarck, Garibaldi, Swami Dayanandji and the History of the Mogul Empire.

Prof. Indra is a high-souled patriot. The crown of his purpose is a free and united India. He participated in the Non Cooperation movement. He was imprisoned thrice.

He is a radical reformer. He does not believe in conventional lines. He has married according to the Civil Marriage Act. He has interested himself in political work in Indian States.

With forty-eight summers on his brows, wherever he goes the people meet him with the transports of enthusiasm. The virtues of wisdom and moderation are on his side. He has curbed the hot spur of his spirit. His spirits are simple as his beliefs.

To say that Prof. Indra is respected and honored by the people is only half the truth. He is simply adored by them.


Source: Haripura Congress Souvenir, 1938