Biography: K.F. Nariman
Calm-spirited, tall and vigorous in his body, full of youthful vigor, his eyes burning with the patriotic fire beneath his bushy brows, his nose prominent and beautifully chiseled, his broad and massive forehead, Mr. K.F. Nariman breathes an animation, a fire, an enthusiasm, a vivid imagination never met with any other countenance. The whole face impress one with a sense of resoluteness, intellectual power and yet withal a sweetness and unconquerable radiance.
He is full of spirit and courage, frank and fearless; but he is likewise unassuming and sensitive.
K.L. Kamat/Kamat's Potpourri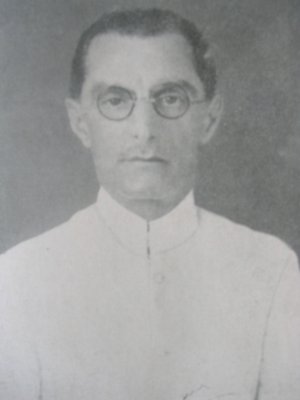 K. F. Nariman
Mumbai's Nariman Point is named after him
His irresistible magnetism is best seen when he rises up to speak. His spare frame quivers with emotion, his voice becomes highly pitched with timbre, and sentence after sentence pours forth in an unremitting flow from a bounteous spring.
Mr. K.F. Nariman was born at Thana. It was written in heavens that he should lead a patriot's life from first to last-untouched by the taint of selfishness but ennobled by the luster of sacrifice. As a boy he was not "a lump of goodness" but very difficult. He took his B.A degree of the Bombay University. As a law student he held the Equity scholarship.
He always aimed to walk abreast with the political forces, which convulsed the country.
As a lawyer he soon reached spiral heights of fame. He exposed the Backbay Expenditure scandal through the defamation suit instituted by Mr. Harvey. His legal acumen won him a command practice.
He quickly drew attention of the public as a member of the Bombay Corporation. The began his eventful career the theme being battle and march. The theatre of his achievements was the youth organization. He presided over the First Indian Youth Conference held at Calcutta. He was elected the President of the Bombay Youth League. His country was the uppermost in his thoughts. For eight years he abandoned his lucrative practice.
His supreme abilities as a leader were reveled in the Civil Disobedience Movement. His quick resolutions and prompt resource, his deep stratagems are sure eye attached a spell to his name. During the struggle he was imprisoned four times. Since eight years he is a member of the B.P.C.C working committee and the A.I.C.C
The year 1935 was a rubricated year in his life. He was elected the Mayor of the Bombay Corporation. As a Mayor he started the Bombay city Citizens Association and was also its first President to take keen interest in slum clearance. He made the Bombayites politically conscious. It may be a fairly claimed that he is the "Nestor" of the Bombay politics.
Few months ago he presided over the Local Institutions Conference at Mysore and was arrested at Bangalore. His arrest caused great resentment among the people. Then he was taken outside state borders and released. He set the ball of political agitation in motion. It is now rolling gathering moss and crunching all the opposing forces.
His fearlessness and independence, his temperament and his will power have made him the leader of the new era.

Source: Haripura Congress Souvenir, 1938